Posted by Michael Andersen (Contributor) on February 17th, 2015 at 3:19 pm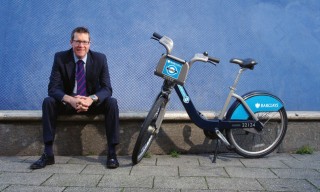 After years of staring morosely at the world's best bike cities just across the English Channel, London is on the brink of big changes. One of the people responsible is coming through Portland on his victory tour.
As director of surface transport strategy and planning for the regional Transport for London agency, Ben Plowden oversees almost everything on his city's streets. In the 15 years since London regained regional autonomy, the city has introduced a hugely successful anti-congestion charge on cars entering the central city, one of the world's first major modern bike sharing systems (now 10,000 bikes strong) and, two weeks ago, an 18-mile protected bike lane through the heart of central London.
On Thursday, Plowden will be biking from the plaza beneath Big Pink to a happy hour at Velo Cult, and you're invited to both.
The ride and happy hour are organized by the Bicycle Transportation Alliance, Portland's chapter of Young Professionals in Transportation and the Coalition for a Livable Future. Velo Cult, the combination bike shop/pub on NE 42nd Avenue in Hollywood, is offering card-carrying BTA members $1 off draft beer purchases at the event.
On Friday, Plowden will be heading west to the Beaverton Round for a morning discussion of low-car transportation in a more suburban context. That free event at the Beaverton Round has been funded by TransitCenter, the nonprofit headed by former Metro President David Bragdon.
Other hosts for the Beaverton event include the BTA, CLF, Metro, Upstream Public Health, Washington County, Westside Economic Alliance, and Westside Transportation Alliance.
We'll be at both events ourselves, eager to hear insights from a man whose previous title at Transport for London was the delightfully accurate "director of better routes and places." Perhaps we'll see you there.