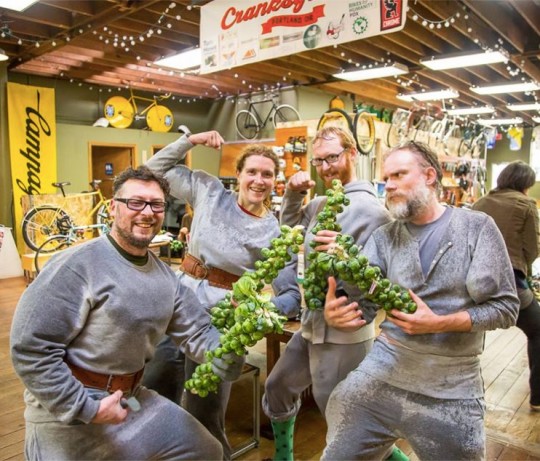 Team Muscles with Brussels won Best Costume.
L to R: Ben Salzberg, Erinne Goodell, Kirk Paulsen, Josh Guttmacher.
(All photos by Mick Orlosky/
Redfishingboat Photography
)
Think of it as doubling down on doing good.
We all know that just by cycling we are doing a good thing for our community; but what happens when you actually do good while cycling? We found out during last Saturday's annual 'Cranksgiving' food drive.
Started in New York City in 1996, Cranksgiving rides have spread to over 60 cities across the United States. Described as a "food drive on two wheels," the event is part scavenger hunt, part food drive, and part alley cat. Participants show up in teams and they're given a list of stores and food items to buy. At the end, all the food and other items from the manifest lists are collected back at the starting point and given to charity.

The day's haul: Over $1,800 in food.
Portland's Cranksgiving was organized by Tom McTighe and Laura Recker (and a crew of other volunteers). According to McTighe, 31 teams and 113 people raised $1,878 in food and supplies, all of which will be donated to Outside In, a Portland-based non-profit that helps homeless youth.
One of the items on the list were patch kits. "They were a big hit with Outside In's clients last year, so we made sure they were on the manifest," said McTighe. The kits were donated by Western Bikeworks (along with two gift certificates). Other donations to the event included 140 loaves from Dave's Killer Bread, and nine refurbished bikes (and mechanic courses to go along with them) from Bikes for Humanity.
For McTighe, who promotes a series of fun and social bike rides throughout the winter season via PuddleCycle.com, Cranksgiving is a way to not only help the broader community but to create community among bicycle lovers.
"I know some people don't like it when bicyclists are all lumped together and referred to as 'the bike community,'" he shared with us via email, "but Laura and I and many others feel that deep down there is a common bond among all the different kinds of bike riders, and I love that this event brings together many different bicycle subcultures."
Check out more photos of the participants and action from the event thanks to Mick Orlosky of Redfishingboat Photography…
Naturally.
Team Jive Turkeys.
Team Cheezus and the Disciples.
Strategy meeting.
Team No Rain No Gain.
Team Messerschmidt.
Tallying up the team totals.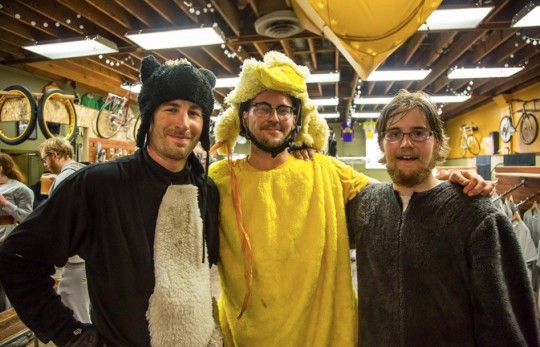 Team The Fast and the Furriest.
Team Buffalo.
Nice work everyone! Such a fun — and important — event.
If you're looking to do more good things this holiday season, check out Hammer Velo's Pay it Forward ride coming up on December 17th.
See more Cranksgiving photos at Mick's Facebook gallery and connect with Puddle Cycle for more great rides this winter.