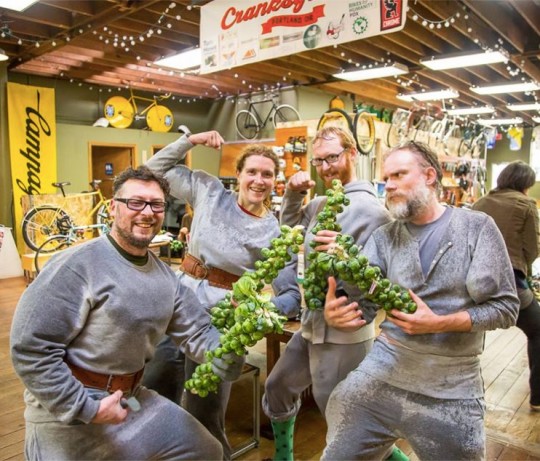 Team Muscles with Brussels won Best Costume.
L to R: Ben Salzberg, Erinne Goodell, Kirk Paulsen, Josh Guttmacher.
(All photos by Mick Orlosky/
Redfishingboat Photography
)
Think of it as doubling down on doing good.
We all know that just by cycling we are doing a good thing for our community; but what happens when you actually do good while cycling? We found out during last Saturday's annual 'Cranksgiving' food drive.
Started in New York City in 1996, Cranksgiving rides have spread to over 60 cities across the United States. Described as a "food drive on two wheels," the event is part scavenger hunt, part food drive, and part alley cat. Participants show up in teams and they're given a list of stores and food items to buy. At the end, all the food and other items from the manifest lists are collected back at the starting point and given to charity.