Sped-up version of a video of Northwest 3rd Avenue just after midnight on Sunday, Oct. 5.
(Original video:
Better Block PDX
)
The widely praised experiment that created a temporary protected bike lane and big new pedestrian areas on 3rd Avenue in Old Town this month seems to be reshaping the way the city sees the street.
"For the last 20 years, I've noticed the extraordinary width at that point on 3rd and I should have noticed an obvious use for all that space was ping pong tables," Commissioner Steve Novick, who had enjoyed a game of table tennis during the demonstration, joked at a city council hearing on the subject Wednesday.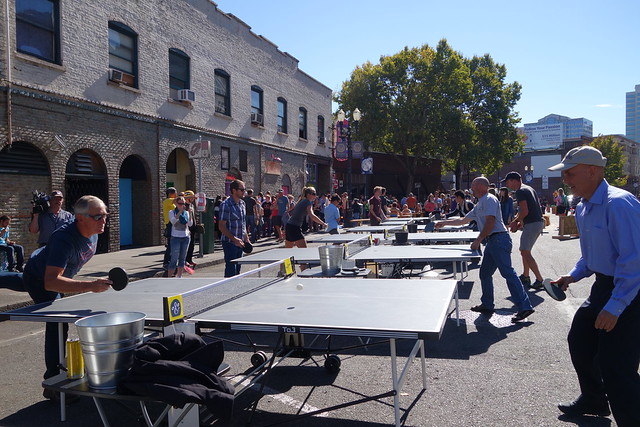 Mayor Charlie Hales (left) plays ping-pong with another visitor to the Oct. 3-5 experiment creating a pedestrian plaza in front of Voodoo Doughnut on 3rd Avenue.
(Photo: Greg Raisman)
Local business owners said that except for traffic backing up in the two blocks north of Burnside — something they thought could be solved by adding a one-block turn lane — it worked like a charm during both day and night.
"Cars slowed down," said Dixie Tavern owner Dan Lenzen, who spent every night watching the demo on 3rd Avenue. "Police officers were able to interact with drivers. At the end of the night, people dispersed quicker. People were able to cross the street comfortably. It allowed for wider sidewalk access. It did everything that it was designed to do."
(Photo: Adron Hall)
"I think this has gone from management of a liability to an opportunity to take the visions this neighborhood has had for a long time from concept to reality."
— Charlie Hales, mayor of Portland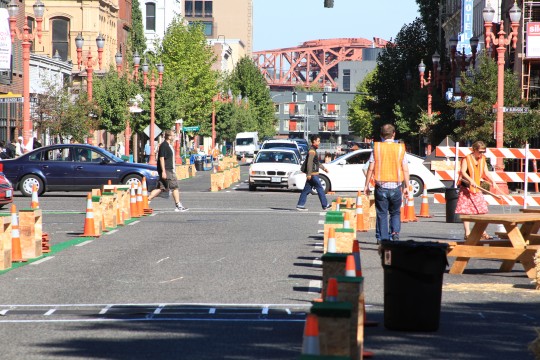 (Photo: Adron Hall)
After the experiment, Chris Lenahan of the nightclub Dirty, also at the corner of Couch and 3rd, pulled the trigger on something he'd been considering: remodeling his storefront to start food and drink service at 4 p.m.
"I'm putting my money where my mouth is," Lenahan said in a phone interview Wednesday. "I took my drawings down to the city yesterday. … It's still going to be a nightclub at nighttime but more of a pub spot during the day."
Lenahan said he plans to pursue a "street seats" permit from the city that'd let him put tables and cafe seating in what's currently the parking lane, in exchange for compensating the city for lost parking revenue. In the longer term, he hopes the city will permanently convert auto parking or travel lanes to pedestrianized or cafe space.
At Wednesday's council hearing, Commissioner Nick Fish praised the experimental design, which was created by volunteer group Better Block PDX in collaboration with the Old Town Hospitality Group, Portland Bureau of Transportation and Portland Police Bureau.
"It reminded me of Times Square," Fish said. "They turned it into a plaza right at the intersection where you had more traffic than any other place in the city … and it created a calming effect and a different experience. … I'm guessing when that was proposed there was a lot of opposition, but in the end it's working."
Same location during the Better Block demonstration and back to its current state a few days later.
(Photos by J. Maus/BikePortland)
Lenzen said he and most other businesses had hoped the council would approve immediate changes and end the weekend evening street blockades that have reduced police calls in the area but reduced sales at some businesses by preventing all car and bike traffic on a few streets after 10 p.m. Instead, Mayor Charlie Hales advanced a plan on Wednesday that shrinks the blockaded area and introduces a provision that will allow for further real-time testing.
"We're going to move into the experimental stages," said Howard Weiner, chair of the Old Town Community Association of businesses and residents in the neighborhood. "We're going to try different ways of closing the streets."
Commander Bob Day of the Portland Police Bureau Central Precinct praised the existing street barricades Wednesday for having reduced police calls by blocking auto traffic completely, but said he invited further changes.
"I'm not married to this," Day said of the existing barricade plan. "I'm always open to new ideas, and I know this plan allows that."
Commissioner Amanda Fritz said Wednesday that "activating the street could make it a safer street … but as we know from Last Thursday it can create some other challenges that need to be addressed and paid for."
Hales said the "next phase of this" is likely to involve the Portland Bureau of Transportation and "also brings up conversation about future capital projects."
Lenzen said his plan is to push for part of $6.1 million that the city has lined up for protected bike lanes and pedestrian improvements downtown. That money will come available in 2015 or 2016.
Hales was particularly enthusiastic during Wednesday's hearing about the possibilities for 3rd Avenue.
"I think this has gone from management of a liability to an opportunity to take the visions this neighborhood has had for a long time from concept to reality," the mayor said. "I'm very excited about this, looking forward to next stage of the work and learning new things … I hope that you have my enthusiatic cooperation to continue experimentation and collaboration. … Great work. More to come."
Update 10:30 pm: If you didn't get to stop by the demo, check out this video by Adron Hall that features interviews with spectators and retail business owners nearby. It was played for the City Council Monday.
Editor Jonathan Maus contributed reporting.