Posted by Jonathan Maus (Publisher/Editor) on January 16th, 2014 at 9:40 am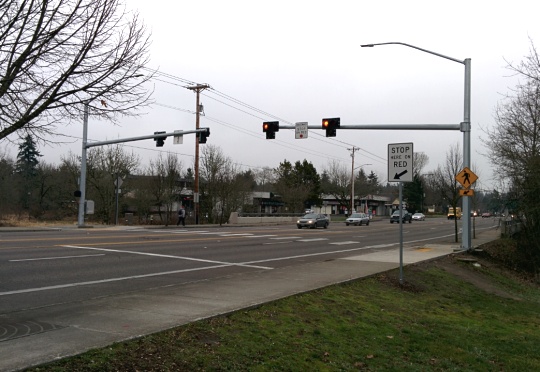 This new signal has been installed on SW Hall Blvd in order to make it easier for Fanno Creek Trail users to cross.
(Photo by Bill Anderson).

Reader Bill Anderson has sent in our first look at the new traffic signal on SW Hall Boulevard and the Fanno Creek Trail in Beaverton (map).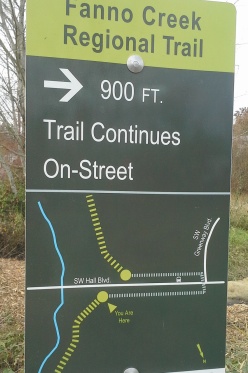 This old sign shows the recommended
detour people would have to take.
(Photo by
KTesh on Flickr
)
The new signal was approved by Beaverton City Council in July of 2012 after 13 years (13 years!) of public process and planning. The Fanno Creek Trail is a popular multi-use path and SW Hall has been a notorious gap for many years. Before this signal was put in, the local parks agency directed path users to walk 1/4 mile out of direction to a nearby intersection (SW Greenway) with a traffic signal in order to continue on the path. Since that was so inconvenient (and very disrespectful to walkers and bikers), many people would simply cross mid-block — which was risky due to the high-speed auto traffic on the seven-lane arterial (four standard lanes, a center turn lane and two bike-only lanes).
The dicey mid-block crossings by path users became such an issue that in 2010 the Tualatin Hills Park & Recreation District was set to install a fence to prevent it from happening until a more permanent fix could get sorted out. That idea was met with opposition from transportation advocates and it never materialized.
Where the path used to end. A tunnel would have been much better than the "beg button" signal.
(Photo by J. Maus/BikePortland)
The new signal is what's known as a "HAWK" signal, which remains green for SW Hall traffic until a button is pushed. Many other ideas were considered for this crossing, including a bridge overpass and a tunnel. Both of those options had a lot of support from neighbors and advocates, but they were deemed too expensive. The bridge was estimated to cost between $4-5 million and the price of a tunnel was estimated at over $9 million (due to the contention that the entire roadway would have to be raised in order to get the tunnel above the 10-year floodplain).
The new signal was the cheapest option, coming in at around $400,000.
So far, Anderson says he's used the new signal several times and it appears to be working well. "I saw 100% compliance from cars," he shared with us, "It will certainly make this more viable for any commuter and much more enjoyable for people recreating."
— Learn more about the history of this project at FannoCrossingHall.org.