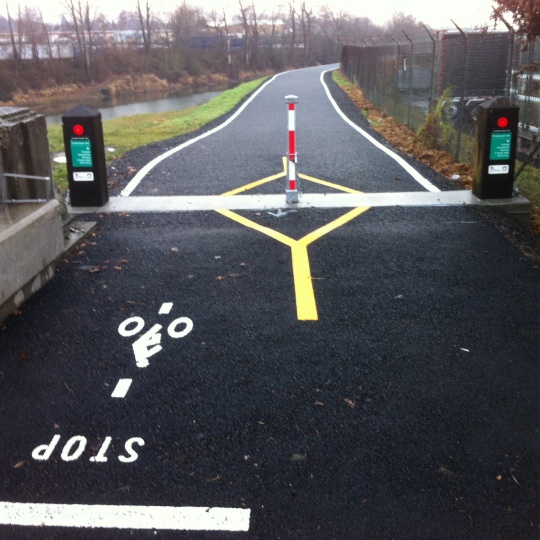 Come on in, the pavement's fine.
(View looking west from Vancouver Ave.)
(Photos: Portland Parks & Rec)

Portland's newest section of paved off-street path is now officially open. Back in October we jumped the gun a bit with our story about a new, 1.2 mile section of path along the Columbia Slough. Today, Portland Parks & Recreation and the Oregon Department of Transportation announced the opening of the Columbia Slough Trail, a "major new biking and walking path".
The new path winds above the Slough between N. Vancouver and Denver Avenues. According to Parks, it cost $610,000 with $460,000 of that coming from an ODOT Community Enhancement fund (leftover from their I-5/Delta Park highway widening project).
Parks says the path, "Offers bicyclists and pedestrians an off-street alternative while providing amazing views of surrounding scenery, birds and wildlife from the shore of the slough."
Directional sign just east of Denver Ave.
Also in today's announcement, Parks Commissioner Amanda Fritz said, "I am glad to hear this valuable project is complete and can begin further enhancing Portlanders' quality of life. I appreciate the extensive work of both our PP&R staff and ODOT to provide these improvements with enhanced bike and transportation options for everyone to enjoy."
The path is a welcome addition to north Portland's transportation network. It offers a much-needed and safer alternative to riding on Schmeer Road and provides a direct connection between many north Portland neighborhoods, Portland International Raceway, the Hayden Meadows Shopping Center (which includes a Lowe's hardware store, among other things). You can enter the new path from Vancouver (map), Denver, or Whitaker Road.
While you're out enjoying this new path, keep in mind that ODOT is cooking up big changes in the area. As we previously reported, this new path will soon make a direct connection across Denver to an existing piece of the Columbia Slough path, a new bikeway adjacent to Denver Ave., and more.