An 1899 newspaper ad for a Portland bike shop, from a
presentation
by local bike historian Eric Lundgren.
The first issue of The Morning Oregonian in 1895 included an article that holds up wonderfully well.
It was published one year before the first organized bicycle recreation association formed in Portland; two years before 800 local donors crowd-funded the city's first dedicated bike path on North Williams and Vancouver Avenues; four years before Oregon governor-elect T.T. Geer bought a bicycle of his own and led the charge for road improvements through the state.
And 119 years later, this short case for the merits of biking still feels like the perfect way to kick off a year of progress.
REIGN OF THE WHEEL.
____
The Present Passion for the Bicycle Likely to Hold Out.
__
What may be called, not improperly, the bicycle passion has full possession of several leading countries of the world. England and France, notably those parts of them in and about London and Paris, have been so given over to it for some time that a large proportion of their population come and go on their errands of business or pleasure "on a wheel," says the December Century.
Americans who have recently traveled abroad have been astonished at the general use of the bicycle there, and have been still more astonished, on returning to their own country during the last year, to discover what headway the passion has made here.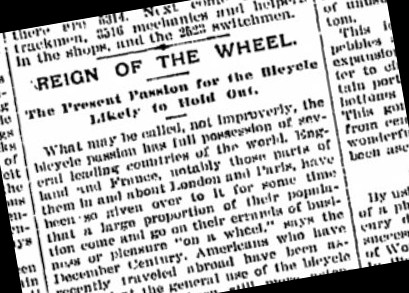 It is said to be a conservative estimate by competent authorities that during the year now closing a quarter of a million bicycles have been sold in the country, and that the number of riders approaches 1,000,000. There are said to be over 50,000 in New York, and its neighborhood, and fully half that number in Boston. The latter city caught the passion from Europe some time before New York did, and has a larger proportion of its population, male and female, regularly devoted to it.
Observers of the phenomenon are wondering whether it is merely a passing whim, or whether it "has come to stay": whether those who have taken it up will continue it after the novelty has worn off, or whether they will drop it for the next new fad that shall come along. There are many reasons for thinking that its stay will be permanent. Undoubtedly many of those who take it up because of its vogue will tire of it after awhile, but these will not constitute a large proportion of the whole number.
The great body of riders find in the bicycle a new pleasure in life, a means for seeing more of the world, a source of better health through open-air exercise, a bond of comradeship, a method of rapid locomotion either for business or pleasure, and many other enjoyments and advantages which they will not relinquish.
Image from the Sunday Oregonian, May 20, 1900.
The bicycle has, in fact, become a necessary part of modern life, and could not be abandoned without turning the social progress of the world backward. Few who have used it for a tour through the country would think for a moment of giving it up and returning to pedestrianism instead. Aside from the exhilarating joy of riding, which every bicycle devotee will assure you is the nearest approach to flying at present possible to man, there is the opportunity of seeing a constantly changing landscape.
The bicycle is, indeed, the great leveler. It puts the poor man on a level with the rich, enabling him to "sing the song of the open road" as freely as the millionaire, and to widen his knowledge by visiting the regions near to or far from his home, observing how other men live.
He could not afford a railway journey and sojourn in these places, and he could not walk through them without tiring sufficiently to destroy a measure of the pleasure which he sought. But he can ride through 20, 30, 40 and even 70 miles of country in a day without serious fatigue, and with no expense, save his board and lodging. To thousands of men and women the longing of years to travel a little as soon as they could afford it is thus gratified, virtually without limit; for a "little journey in the world" can be made on every recurring holiday or vacation.
Emphases mine. Love local bike history? Check out this presentation from Portland bike historian Eric Lundgren (my favorite slides are probably "Women on Bikes" and "Barbarians on a Bicycle") and see the links in this BikePortland post. And see this 1940 Oregonian clipping on PDX Tales, which clued us in to the existence of the earlier article.