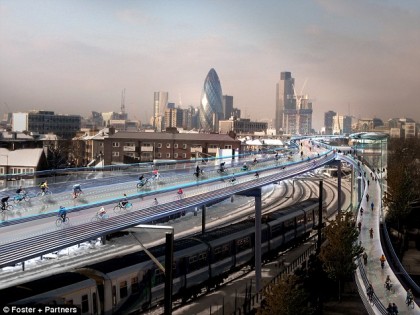 Here are the bike-related links from around the world that caught our eyes this week:
Bike skyways: A British starchitect wants to build a 135-mile network of elevated bikeways above London's commuter rail lines. (It's an oddly familiar concept…)
Pollution exertion: "Cycling in cities could do more damage than good to a rider's heart thanks to dangerous pollutants in the air, a new study has found."
Affordable bike shopping: Bicycling magazine has a guide to shopping for a new bike for less than $1,000: "Manufacturers match each other closely on price and components, especially on lower-cost models, so mostly what sets bikes apart is fit and feel."
Know thine enemy: Portland transit consultant Jarrett Walker rebuts a column that erroneously equates traffic congestion with long travel times by urging us to understand the writer's behind-the-windshield perspective: "Many people's brains are so fused with their cars that to them, congestion really is the same thing as urban mobility or urban liberty."
Safety stats: Americans killed on bikes are four times likelier to be the victim of a hit-and-run than those killed in cars.
Bike sharing approaches: A Portland Tribune piece on the city's imminent bike share deal includes numbers from Chicago's system reminding that tourists are a very important revenue source for these systems.
Citi Bike prosperity: Six months after New York City's bikeshare launched, retailers in a hurricane-hit neighborhood are lobbying for a station near them. "A Citi Bike station could bring more people, more New Yorkers, down here and hopefully help support the business," a wine shop owner said.
Bike share ball drop: Killer product placement: six Citi Bikes will power this year's Times Square ball drop on New Year's Eve.
"Steel Grandpa": Do you know the story of Gustaf Håkansson, the Swedish longbeard who won a 1,000 mile bike race in 1951 through a shocking feat of physical stamina? Because you probably should.
Gas tax alternative: "Assessing a half-cent fee per ton mile would cost a typical American car owner about $50 per year and would cover the highway fund's revenue shortfall," figures Michael Webber. "With a fee on the order of two cents per ton mile, gas and diesel taxes could be eliminated entirely."
Maximizing happiness: What would a city look like if it set out to maximize "joy, health, freedom, resilience, equity, and social connections"? Writer Charles Montgomery shares some clever lessons from Bogota, Copenhagen, Freiberg, Davis and Vancouver.
Street transition: A few years after cars became common in one Mexican city, a group of activists is responding to the new, palpable sense of danger by campaigning for the country's first 19 mph "slow zone" throughout downtown.
Standardizing bike signals: Green bike boxes and dedicated bike traffic signals are about to be endorsed by one of the bibles of the U.S. traffic engineering profession.
NYC victory lap: "Since 2001, there's been a stunning 30% decline in annual traffic fatalities" in NYC, says outgoing transpo chief Janette Sadik-Khan, who claims that the "biggest transformation" is that New Yorkers now want "streets to serve a variety of roles, not only the movement of heavy traffic."
Big ideas: What's the best thing your city did in 2013? Urbanists from around the country sound off. Pittsburgh floated a giant rubber duck on its riverfront; Los Angeles expanded its open streets festival; Portland agreed to build two miles of sidewalks.
Selling rideable bikes: David Arditti explores the mysterious failure of U.K. bike shops to sell bikes that are ready for everyday riding. He likes the German solution ("Bikes over a certain weight must be sold with lights conforming to certain standards") and the Dutch one ("The demand for utility "Continental-style" machines won't increase until the government makes the infrastructure better.")
Nice stuff: BikeRadar has compiled the best bike gear of the year, in three categories: road, mountain and both.
Injured stunt rider: A major bicycle distributor is helping fundraise for the recovery of Martyn Ashton, who starred in the "Bike Road Party 2" video we featured on the roundup this month and suffered "life changing" spinal injuries earlier this year.
Bike fun forever: Bikehub's Carlton Reid caught this fun detail: in 1892, the motto of the Arlington Wheelmen was apparently "Wha! Who! Wha!!"
Inspiration: Let's close the last roundup of the year with this photo from the Facebook feed of Second Life Bikes in Asbury Park, N.J.: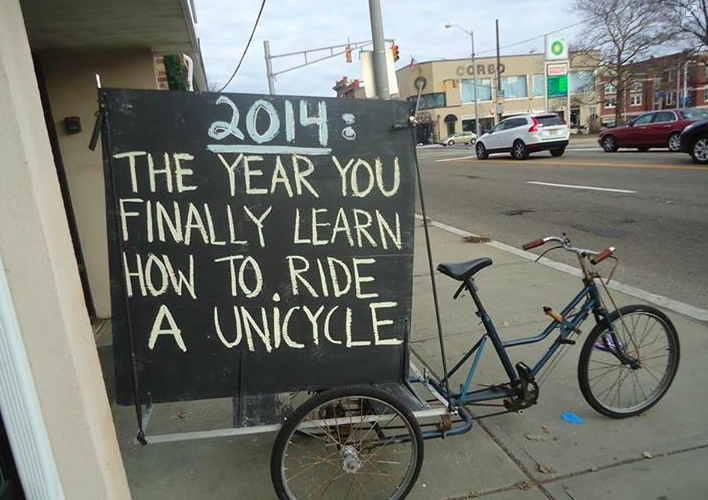 If you come across a noteworthy bicycle story, send it in via email, Tweet @bikeportland, or whatever else and we'll consider adding it to next Monday's roundup.