Tolls and traffic projections for the CRC project
raise new questions.
(Photo © J. Maus/BikePortland)
Economist Joe Cortright says new traffic projections from a previously undisclosed report reveals an inconvenient truth about the Columbia River Crossing project. The plan to toll the existing I-5 bridge span (starting in 2016) would lead to nearly 50,000 people per day opting to drive over the I-205 bridge instead. As a result, not only would I-205 (and its feeder routes I-84 and SR 14) become jammed during rush hour, but there would be a significant decrease in traffic on I-5 which raises new questions about the wisdom of spending $2.7 billion to significantly expand its capacity.
This analysis is detailed in a new, 12-page report by Cortright's firm, Impresa Consulting Inc. (PDF). Cortright obtained the underlying data via a public records request from the CRC and the records come from a traffic modeling report performed by CRC contractors CDM Smith.
Here's more from the summary of Impresa's report:
Starting in 2016, the CRC will toll the existing I-5 bridges; but the parallel I-205 bridges will continue to be free. Tolls will create a strong incentive for drivers to divert to I-205. Until now, CRC has claimed that diversion will be minimal; but a new study prepared by a CRC consultant CDM Smith confirms that tens of thousands of cars will shift to I-205, ultimately loading it to full capacity. Traffic jams on I-205 will increase travel times on I-205, and on connecting routes like SR-14 and I-84; economically important trips to Portland Airport will likely take much longer as a result.
Current daily vehicle traffic on the I-205 bridge is 140,000 vehicles per day and the diversion of traffic from I-5 would bump that number up to more than 188,000 vehicles per day in 2016, the report says. Meanwhile, traffic on I-5 in 2016 would drop to just 78,400 daily vehicles from its current number of 124,000 daily vehicles.
According to Cortright's analysis of the CRC traffic modeling numbers, once the new I-5 bridge opens in 2022 (and tolls are raised even further), the diversion will get even worse and traffic on I-5 would plunge to "about the same level as 1972."
"After spending more than $3 billion, the new mega-bridge will serve fewer than two-thirds as many motorists as use it today."
Given these diversion numbers and the impact tolling the I-5 bridge is likely to have, Cortright comes to the conclusion that, "The people for whom the project is being built (I-5 bridge users) don't value it highly enough to pay even a third of its cost (which is roughly what tolls will cover)."
Cortright also points out that the traffic projections by CDM Smith differs greatly from the projections included in the CRC's Final Environmental Impact Statement (FEIS); so much so that these new numbers "invalidate" the "dramatically wrong" FEIS numbers (as seen in the chart below)…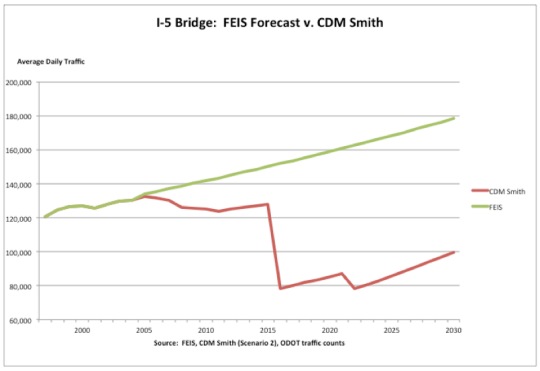 Going further, Cortright's report bolsters his argument that CRC backers have ignored the decline in driving that has been underway in the U.S. for nearly a decade. "This forecast invalidates the transportation rationale for the CRC project," he writes, "The CRC was based on the premise that a new, larger bridge is needed to accommodate growing traffic flows."
We find these revelations especially troubling given the Oregon Department of Transportation's (ODOT) rationale against a road diet on SW Barbur Blvd due to concerns of "unacceptable" driving delays.
These latest holes in the CRC plan come as the legislature in Salem is due for a special session. While it appears "likely" that the CRC will see some action, the Governor has yet to lay out any specific plans to take it up.
For more on Cortright's latest analysis, check out the 12-page report.
Contact Jonathan at @jonathan_maus on Twitter, via email at maus.jonathan@gmail.com, or phone/text at 503-706-8804. Also, if you read and appreciate this site, please become a supporter.