Morning sunrise behind me, the dream-like Hail Ridge Road in front of me.
It would be a very good day on the bike.
(Photos © J. Maus/BikePortland unless otherwise noted)
Spending three days riding some of the most exhilarating roads in our state has left me with many fond memories and new excitement about the bike tourism potential of eastern Oregon.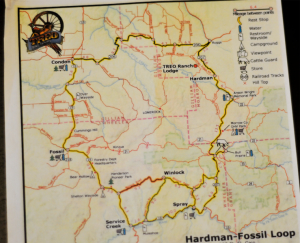 But there's one thing that happened on my last day that was particularly memorable: a tense encounter with a huge angus cow.
On Tuesday, my last day at TREO Bike Ranch in Hardman, Oregon, I attempted to tackle the "TREO Century." The route is one of a seemingly infinite number of routes mapped out by TREO owner Phil Carlson and his crew. I set out from the ranch and headed northwest toward the sweet little town of Condon. After about 15 miles of dreamy, carfree, hard-packed gravel on Hardman/Hail Ridge Road, I popped out onto highway 206 with about 14 miles to go until Condon. Right after the intersection of Hail Ridge Road and 206, I finally got to experience the "Condon Curves," or what former Cycle Oregon Ride Director Jerry Norquist refers to as, "The best downhill in all of Oregon."
The spectacular, swooping curves on perfectly smooth pavement lived up to the hype. After the curves, I pedaled by the picturesque Rock Creek, then up and out of a canyon and back up onto wide-open wheat field country as I approached Condon. Phil was driving his truck to offer support throughout the ride, so I met him at Condon where he had lunch and cold drinks waiting.
Rock Creek
One of the last remaining wheat fields that hadn't been harvested.
(Photo: Phil Carlson/TREO Bike Ranch)
Leaving Condon, I rolled through rocky canyons that made me think of Road Runner cartoons. As I craned my neck to gaze at the amazing rock formations, I expected Wile E. Coyote to drop an anvil on my head any minute.
The road (highway 19) between Condon and Fossil is all but empty. I only saw a handful of cars the entire day. I also loved the old pioneer history that exists in the small towns along the way. Take Mayville, for instance. Several historic buildings and houses still stand as a testament to the bustling place it was back in the 1800s.
Beyond Mayville, I rode through Fossil and then continued south on highway 19. Then, about six miles before coming to the John Day River at Service Creek, I hung a left and returned to gravel via Winlock Road. Winlock is a favorite of gravel road lover and TREO regular Dan Morgan. He'd been talking it up for the past days so I had to do it. By this time in my ride, about 60 miles and several thousand feet of climbing in, I was started to fade, but Winlock was such a great road it lifted my morale. What's great about this loop was the diversity of ecology you ride through. From the wheat fields in the northern section between Condon and Hardman, to the canyons surrounding Fossil and then the timber country that begins in the south, you get to immerse yourself in many different environments.
Wheeler County Courthouse in Fossil.
(Photo: Phil Carlson/TREO Bike Ranch)
Winlock Road is fast gravel that winds through tall pines and cattle country. Speaking of cattle, as I rounded one of the curves, I spotted a big angus cow. That alone wouldn't have been a big deal, but she was on the road, outside the barbed-wire fence. I figured I would just pedal right by her, but she immediately looked at me with a stare of disapproval. Then she bolted across the road. I was worried she might trample me, or run into the fence and hurt herself. The last thing I wanted was any trouble with a landowner for upsetting their livestock. The cow and I continued to play this dance. I would roll up, she would bolt a new direction, then stop. Then she strutted into the middle of the road, swung around 180-degrees and stared right at me — as if she was daring me to pass. I wasn't sure what to do, so I waited for Phil to pull up behind me in the truck. He was cracking up, with his camera at the ready, waiting for the showdown. "It's cowboy hazing," he said, "eastern Oregon style."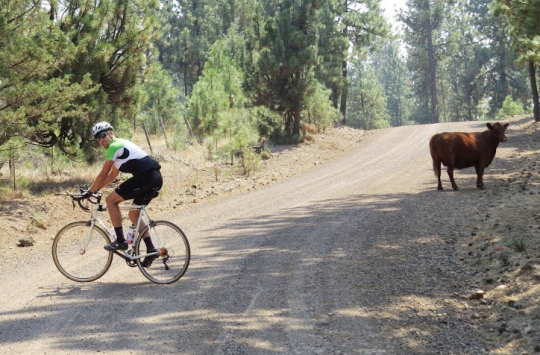 "Um, Phil, what should I do?".
(Photo: Phil Carlson/TREO Bike Ranch)
(Photo: Phil Carlson/TREO Bike Ranch)
Eventually, I used Phil's truck as a blocker and I rode alongside it, between him and the cow. It worked and I was quite relieved to have finally made it past this ornery beast.
A few miles later, I was ready to hop in the truck and head back to the ranch. Phil pulled over under the shade of a pine tree and pulled out the most perfect Hermiston melon I've ever eaten. It was one of the best days on a bike I've had in a very long time.
— This special coverage is brought to you by Western Bike Works (1015 NW 17th), who reminds you to check out their cafe and monthly shop rides. The next one is this Saturday at 10:00 am. More info on their shop calendar.