Posted by Jonathan Maus (Publisher/Editor) on July 3rd, 2013 at 10:40 am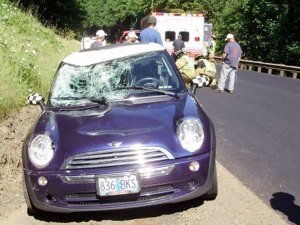 Aftermath of a collision on the Highway 6 yesterday.
(Photo: Oregon State Police)
The Oregon State Police are investigating a collision that happened yesterday afternoon on Highway 6 (Wilson River Highway) east of Tillamook. According to an OSP statement, 29-year old Portland resident Joel Westrom was riding westbound on the shoulder of the highway when he was struck from behind by Suzanne Flood, a 65-year old Milwaukie resident driving a Mini Cooper.
The OSP statement says Westrom, "reportedly moved into the car's path" prior to the collision. Investigators believe Flood was driving 55 mph prior to the collision. Westrom has sustained serious injuries and was flown to OHSU. The police statement also says he was not wearing a helmet.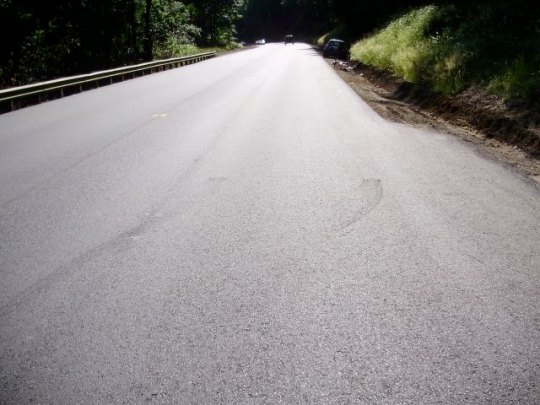 Skid marks (note the car and bike in the upper right).
(Photo: Oregon State Police)
I was disturbed by the "moved into car's path" statement in the press release so I called OSP Public Information Officer Lt. Gregg Hastings. Hastings said the investigation is still ongoing, but roadway evidence (location of skidmarks in above photo for instance) and the statement of the driver have led to the initial hunch that Westrom might not have been riding on the right in the shoulder prior to impact. Another reason Hastings gave for this assumption is that a popular hiking trailhead (Kings Mountain) is very close to where the collision occurred. "The person might have pulled out and gone wide into the road, possibly crossing it, based on the roadway evidence," he said.
Worth noting is that this highway is part of a coastal biking route recommended by the City of Portland Bureau of Transportation on their "Recreational Bicycling Rides" page. This collision occurred near milepost 25, which is close to Lee's Camp Store and the Elk Creek Campground. According to the elevation chart supplied by PBOT, it also appears this was a downhill section of the road. The collision occurred at around 4:00 pm, so the sun would have been bright and glare could have also been a factor. Also worth noting is that the road has recently been repaved, so there is no lane striping to designate where the shoulder area begins.
So far, Hastings says, they have not interviewed Westrom to hear his side of the story. We'll update this post when we know more.
Jonathan Maus is BikePortland's editor, publisher and founder. Contact him at @jonathan_maus on Twitter, via email at maus.jonathan@gmail.com, or phone/text at 503-706-8804. Also, if you read and appreciate this site, please become a supporter.