Posted by Jonathan Maus (Publisher/Editor) on June 20th, 2013 at 2:14 pm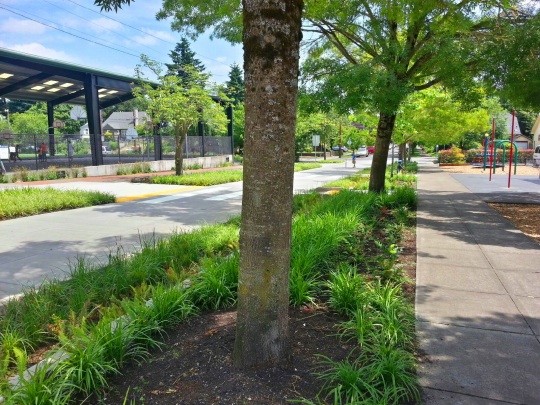 This is the new and improved NE Klickitat Street between 23rd and 24th. It's the latest from PBOT as part of their ongoing development of the neighborhood greenway network.
(Photo: Craig Harlow)
Earlier this week we highlighted changes PBOT has made to the western end of the NE Klickitat Neighborhood Greenway. Further east on that same project is something else worthy of your attention. Reader Craig Harlow has tipped us off to a new carfree section of NE Klickitat between 23rd and 24th.

PBOT concept drawing.
PBOT has converted one block of a standard, low-volume residential street between a school and a playground, into a carfree "green street" (which they create in partnership with the Bureau of Environmental Services). I haven't been out there myself, but from these photos it looks absolutely fantastic.
Check out the before and after images…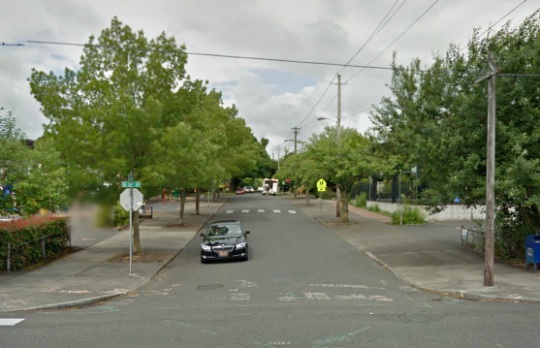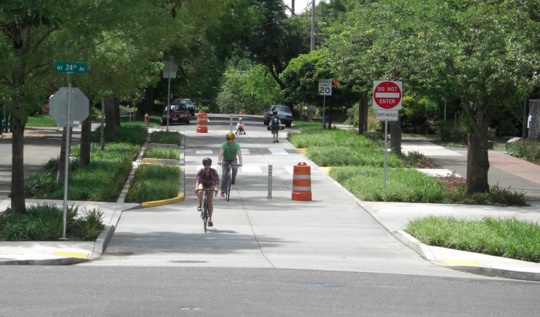 (Photo: Scott Batson/PBOT)
Harlow is a citizen activist and transportation wonk, so he also shared more about the project's features and a few comments. According to Harlow, this carfree section of Klickitat includes:
auto-traffic diverting bollards at either end
narrowed roadway serving bikes-only access
concrete roadway surface (instead of asphalt)
stormwater planters and other green treatments
sidewalks separated from roadway using green strips about ten feet wide (inclusive of the preexisting parking strip / furnishing zone)
"What used to be a dangerous crossing for children between the school, the transit stop, and the adjoining playfields," writes Harlow, "now functions more like the Tom McCall waterfront pathway, with just bikes rolling east and west across the center roadway, and tiny kids riding their little bikes in loops around the green strips. The entire setting now feels more like one big park."
"The entire setting now feels more like one big park."
— Craig Harlow
Harlow adds that the school used to block off this stretch of Klickitat to auto traffic during drop-off and pick-up hours; but, "some parents took that as license to treat the blocking of auto traffic as an extension of curbside parking, leaving their cars in the path of east and westbound bikes where a bicycle boulevard has been established for about two years now."
Harlow, who has chaired advisory committees for transportation projects in northeast Portland, likes what he sees. "I think this is an impressive model for how the city could be implementing auto traffic diversion along the city's neighborhood greenways, which seem too often to serve as quick auto cut-throughs that avoid the traffic and signal-stops of the nearby main thoroughfares."
This project brings to mind the "pocket park" on the NE Holman neighborhood greenway. On that project, PBOT and their partners (BES, Parks, and the Water Bureau) took a tiny park and extended it across Holman. Auto access was cut off while people can still cut through the park on foot and on bicycles.
PBOT's neighborhood greenways czar (my title, not theirs) Greg Raisman says, "I think this is another great example of what Neighborhood Greenways are all about. This project is about getting a lot out of the public realm: streets that are great to walk, bike, and live on where sustainability goals are met and a comfortable place is created where neighbors can meet neighbors."
This is the City at its best. Collaborating between agencies to get more value and livability out of our public spaces. And we desparately need more diversion like this on neighborhood greenways if we expect them to actually work as advertised.
Have you ridden on NE Klickitat before or after these changes? What do you think?
Jonathan Maus is BikePortland's editor, publisher and founder. Contact him at @jonathan_maus on Twitter, via email at maus.jonathan@gmail.com, or phone/text at 503-706-8804. Also, if you read and appreciate this site, please become a supporter.