Posted by Jonathan Maus (Publisher/Editor) on June 17th, 2013 at 2:48 pm
New striping and more on
N. Vancouver Ave.
(Photos: Joan Petit)
The Bureau of Transportation (PBOT) has made changes to the street around the intersection of N. Vancouver Avenue and Morris. This stretch of Vancouver is a busy bikeway and it sees a fair amount of people walking due to the adjacent park (Dawson Park) and several Legacy Emanuel Hospital buildings.
Reader Joan Petit recently spotted some changes to Vancouver that she feels have made a big safety improvement. I've shared her thoughts and photos below:
I live near this intersection, which is also part of my daily bike commute to work. Previously, it was hard to walk across N Vancouver because traffic moves quickly (even with only one vehicle lane), yet there's a fair amount of foot traffic in this area because of Dawson Park and Emmanuel Hospital, which flank this intersection.

Previously, it was sometimes awkward for cyclists on N Morris to turn left onto Vancouver. Even when there was no car traffic, the narrow bike lane was often busy with fast-moving bikes, making the merge tricky.
Pedestrians can now cross in clearly marked crosswalks. The intersection works better for cyclists too. Now, cyclists traveling south on N Vancouver split to the right of a traffic island before N Morris; cars go to the left. The island gives extra space for a newly added turn and merge lane for bikes coming onto Vancouver from Morris. Turning bikes have space to get up to speed before merging into bike through-traffic.The best part? The new traffic flow is clearly marked, making it quite clear where bikes should go.

In just a few days, I have already found this new traffic pattern to be a big improvement. I appreciated PBOT's efforts to find a sensible, custom solution for this particular intersection.
These changes are part of the NE Klickitat Street Neighborhood Greenway. Vancouver is the easternmost point of that greenway, which runs all the way to NE 67th.
Here are a few more photos: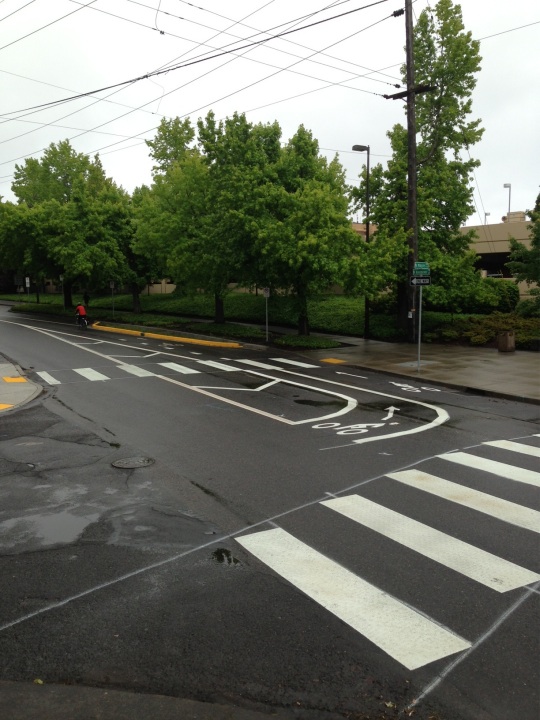 Looking east from northeast corner of intersection. Notice the new median with bike lane behind it.
Just a bit further north from the above photo.
Have you ridden through this yet? What do you think?
UPDATE, Tuesday 6/17 at 8:55 am: – I checked this out for myself this morning. See the photos below for a better sense of what the approach to the median feels like. I think PBOT should remove that last parking space (where the van is) in order to vastly improve sight lines on the approach: