Posted by Jonathan Maus (Publisher/Editor) on May 3rd, 2013 at 11:59 am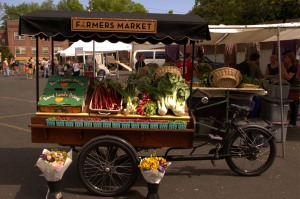 A cargo bike mini-mart debuted at Buckman
Farmer's Market yesterday.
(Photos: Portland Farmer's Market)
Portland's love of cargo bikes just took another big step. And I mean big. The folks who run Portland Farmer's Market debuted their new "Produce Pedaler" cargo bike at the Buckman market yesterday. The bike is an old-fashioned style, extra-large, classic Dutch bakfiets. It has a load capacity of 660 lbs and it's nearly 12 feet long.
The bike will travel to the eight different Portland Farmer's Markets around town throughout the season. It's set up as a mini-market and will offer vegetables and produce, flowers, and assorted goodies from market vendors. PFM Operations Director Jaret Foster says, "Having a mobile market bike has been a longtime dream. The Produce Pedaler not only creates another sales opportunity for our vendors, it's also the perfect way to bring together Portland's celebrated bike culture and regional bounty in a fun and memorable way. We hope this beautiful three-wheeled vehicle becomes a Portland icon…"
In addition to being at markets, the Produce Pedaler will show up at summer events throughout the city such as as the Kenton Street Fair and the City of Portland's Sunday Parkways events.
The bike itself was made by WorkCycles in the Netherlands. It was purchased from the founder of Cafe Velo, which was Portland's first bakfiets-based business when it launched back in 2006. The components are insanely tough and built to last forever. It's got an easy-to-pedal 1:1 gear ratio and the load is carried by "truck-type leaf springs" which smooth out road bumps. Because as its manufacturers says, "These bikes were, after all, designed before the roads were paved."
And I'm happy to report that it's not just a cute prop. This thing gets pedaled from its storage space downtown to PFM headquarters in the Leftbank Building (near the Rose Garden), and all through neighborhoods…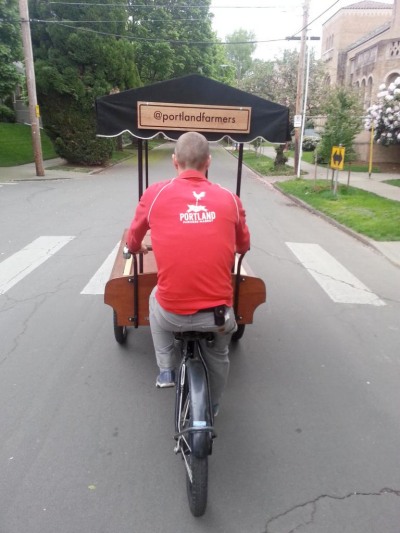 Keep your eyes peeled for this cool machine.