Physically separated bikeways are coming to NE Multnomah Street through the Lloyd District!
(Graphic: PBOT)

Nearly two years after an effort to improve east-west bicycle access through the Lloyd District shifted from NE Holladay Street, the Portland Bureau of Transportation (PBOT) has begun to implement their NE Multnomah Street Pilot Project.
As you can see in this photo (taken today), PBOT has
removed the old bike lane stripe, and is
prepping for the new buffered bike lane.
(Photo © J. Maus/BikePortland)
The project is an attempt to transform Multnomah from a sleepy, wide, and typically unexciting car-centric thoroughfare into a vibrant "main street" with protected bikeways and a more human-centered streetscape that will complement future development.
PBOT has changed the plans significantly since they were first unveiled back in May. They received lots of negative feedback that the design did not go far enough to create high-quality bicycling conditions. PBOT spent the summer tweaking the design to reflect public feedback and the desires of Lloyd District business owners and developers in order to reach a compromise that would satisfy everyone.
From what I've heard so far, the new design is much better for bicycling. Instead of the initial designs that forced people on bikes to weave from a few protected segments into many areas with standard, door-zone bike lanes adjacent to auto traffic, the new design offers either physically separated bikeways or buffered bike lanes along the entire length of the project (from I-5 to NE 13th). The final design also includes bike corrals — a feature that was glaringly absent (and only promised for the future) in the initial designs.
A PBOT design document shows one of the key changes from May's design to the one we have now:
To help people better understand what to expect, PBOT has created graphic visualizations showing two types of buffers that bicycle riders can expect to see: "buffer planters" and "buffer delineators".
The concrete planters are being reused from the Yamhill/Morrison transit mall downtown:
And the delineators are reflective traffic "wands":
And now let's take a quick tour of the cross sections from west to east…
NE Wheeler to 3rd:
3rd to Grand: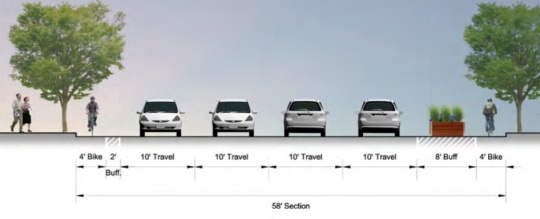 Grand to 7th: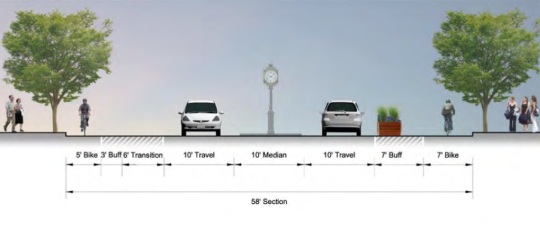 7th to 11th:
Holladay Park to 16th:
PBOT is also showing a "potential" parklet that could be built on the south side of Multnomah between 9th and 11th, adjacent to the Doubletree Hotel:
At the monthly meeting of PBOT's Bicycle Advisory Committee this week, City bike coordinator Roger Geller said, thanks to public feedback and the involvement of the BAC, the new design is "Really much better than initially proposed… We're pretty confident it will work well."
Craig Harlow, a citizen activist and neighborhood resident who expressed "grave concerns" after seeing the initial plans, now says he's pleased with how PBOT has responded to his feedback. "They've adopted many of the improvements that I've been asking for, including a widened, parking-buffered, curbside bike lane through most of the corridor." Harlow says PBOT project managers also tell him they'll sign the street for 20 mph.
PBOT's Geller said they hope to have the project completed within the next few weeks; but they'll need this rain to let up before they can continue with the striping.
— Learn more about the project and download the latest design drawings on PBOT's website. For previous coverage, browse our NE Multnomah Project story tag.
Jonathan Maus is BikePortland's editor, publisher and founder. Contact him at @jonathan_maus on Twitter, via email at maus.jonathan@gmail.com, or phone/text at 503-706-8804. Also, if you read and appreciate this site, please become a supporter.