Lindsay Walker of the Lloyd TMA
looks over the project maps with PBOT
Traffic Engineer Rob Burchfield and
City Bike Coordinator Roger Geller.
(Photos © J. Maus/BikePortland)
Last night the City of Portland and representatives from the Lloyd Transportation Management Association hosted an open house for their NE Multnomah Street Transportation Pilot Project. It was the first time the public was shown the proposals for this project.
If you recall, back in October a citizen committee ended a 10 month public process with a 12-1 vote in favor of moving forward in making NE Holladay the main east-west spine for safe and convenient bicycling through the Lloyd District. That lone dissenting vote was held by the most powerful man in the room (or perhaps just the most feared) — Wade Lange of commercial real estate firm Ashforth Pacific. Lange — who was also representing a San Diego real estate firm that had just purchased $92 million worth of Ashforth property (the majority of which is on Multnomah Street) — never made it clear exactly why he opposed the project on Holladay; but despite being outvoted 12-1, he convinced the City of Portland to turn their attention away from Holladay and toward Multnomah instead.
By March, Lange found himself on a 25 person task force charged with putting Multnomah on a road diet. The task force was made up of PBOT staff, TriMet, the Portland Development Commission, property owners, and other stakeholders. Since then, they've met three times to come up with a plan to make significant changes to the street.
At the open house last night, the poster boards explaining the genesis of this project made no mention of Holladay. Instead, this is how the project was introduced:
"NE Multnomah Street was suggested as the prime east-west retail corridor as part of the N/NE Quadrant project. In its existing form NE Multnomah leaves little space for on-street parking, and active transportation that would invite shoppers, visitors, pedestrians, cyclists and transit riders to one of Portland's premier districts."
In order to turn the "outdated" street into one that will "energize the Lloyd District and create a vibrant east-west retail spine" on NE Multnomah, the first phase of the project will:
add around 70 new on-street car parking spaces between NE 1st Avenue and NE 16th (19 of which are being added in one stretch along Holladay Park);
add a wider, seven-foot bike lane in both directions (more details below);
add green coloring at several of the intersections where TriMet buses have to pull over and access corner stops;
reconfigure the number of standard vehicle lanes from five to three.
The lead graphic on one of the posters created by PBOT showed elements of the project — like on-street bike parking and a "parklet" — that are not yet funded or planned for in the first phase. Instead, PBOT says they've "set aside space" for what they are calling "future streetscape enhancements" (also important to note is that the cars in this scenario would be moving, not parked):
For reference, below are the proposed cross sections (Note: Currently the street has standard, four-foot bike lanes and five standard vehicle lanes):
The proposed designs for the bikeways alternate between three types of facilities.
On a few of the block faces, bikes will be directed onto a curbside bike lane physically separated from other traffic by a large (eight foot wide) buffer that will alternate between striped pavement markings and large concrete planters. The drawings aren't online yet, but I snapped a few photos to give you an idea of what it would look like.
Here's the drawing for the section just east of SE Grand Ave:
And PBOT was showing this image from Vancouver, BC as an example of the planted buffer:
On many other block faces, where curbside, on-street parking has been added, bikes will travel in a seven-foot bike lane with a one-foot, painted buffer in the door zone. You can see how the curbside bike lane with planted buffer transitions into the more traditional bike lane in the image below (which is the section just east of NE 9th Ave):
And here's how it appoaches MLK JR Blvd…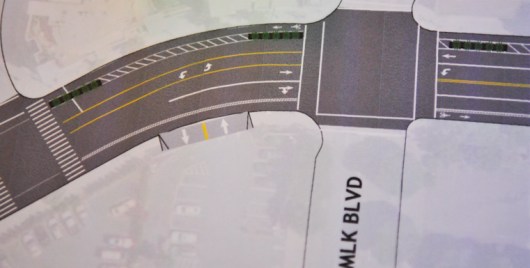 Here's another section (not sure where, sorry):
And here's what they've proposed between MLK and Grand:
In just one of the block faces, the bike facility will be similar to the cycle track on SW Broadway, where the car parking is "floating" in the road and it acts as a buffer between bikes and cars. Why is only one section a parking-protected bike lane (which provides more separation and is considered a higher-quality bikeway) while all the other new car parking is directly at the curb? PBOT traffic analyst Wendy Cawley explained that business owners requested the curbside parking. Here's how it looks outside the 700 Lloyd building east of NE 7th (and it's worth noting that there's a massive, 780 unit, $250 million housing and retail project coming to the parking lot just east of that building):
Much like we observed with the opposition to parking removal by the Portland Development Commission and other stakeholders on the Holladay project, parking rules in the Lloyd District. PBOT Director Tom Miller helped explain this for us back in December when he said, "on-street parking is crucial to the success of major, at-grade retail… Retailers need those [parking] stalls. Whether people like it or not, we're not going to put retail out of business. It's just not what we do."
Not to mention that real estate professionals and property owners fight for the spots because it makes their buildings much more valuable when it comes time to sell.
Interestingly, despite proposing to add around 70 new on-street car parking spaces (there are none currently), there are no plans to add new bike parking. Instead of being included in the initial plans, bike corrals are being considered as part of "future streetscape improvements" that "will be encouraged" in the parking zone. Business owners would have to request them before they are installed.
The lanes for cars are direct and straight the entire length of the street; but the bike-only lanes weave between three different types of facilities — moving from curbside, protected zones, then out into a more traditional bike lanes (with no protection from moving cars) and then mixing with buses at intersections. There are even a few intersections where PBOT says they might add a right turn lane.
When I shared my concerns with PBOT traffic engineer Rob Burchfield, he said they've set aside space in this initial proposal for future uses such as the corrals, parklets, and maybe even a bike share station. It was also made clear last night that the buffered bike lanes could be converted to more robust, physically separated facilities as part of a longer term "Phase two" of the project.
PBOT says the project will cost about $175,000, with about $90,000 of that to be paid by the Lloyd TMA. It will be considered a one-year pilot project and it could be completed by late summer/early fall of this year. They are accepting comments online from the public and I'll update this post when I get the link.
Overall, this project as proposed left me very disappointed. Once again, people that choose to bike seem to have taken a back seat to powerful business interests and the need to accomodate automobiles. What do you think?
Contact Jonathan at @jonathan_maus on Twitter, via email at maus.jonathan@gmail.com, or phone/text at 503-706-8804. Also, if you read and appreciate this site, please become a supporter.