After just four years in business, Portland Design Works has made a solid name for itself in the bike industry. It was September 2008 when we first shared that a young, former general manager at Planet Bike, Erik Olson, was leaving Wisconsin to start up a new company here in Portland. Olson came here specifically to allow his endeavor to feed off our rich and vibrant bike culture. A few months later he joined forces with fellow Planet Bike co-worker Dan Powell. And the rest, as they say, is history.
From their headquarters just off the busy bikeway of N. Williams Ave, Portland Design Works has built a distinctive brand on a shoestring marketing budget. They've done it by doing creative projects (Circulus anyone?), by becoming part of the community, and of course by designing some very cool, distinctive and functional products.
Earlier this month I spent some time with Powell, Olson, and Sales Manager Kevin Murphy to chat about how business is going and to get a peek at their latest offerings.
It's a hectic time of year for the PDW crew. They were not only prepping for the big Interbike trade show in Las Vegas when I stopped in, they were also getting ready for the time change and the early darkness that comes with it. PDW boasts a wide variety of products — from tools to tire inflation devices — but they might be best known for their lights. Their Danger Zone rear LED (MSRP $37) sells so well they can hardly keep up with demand.
Strong light sales have allowed Olson and Powell to extend their product range. Next month they'll launch the Dios Thronos, their first saddle. "It's like Crocs," Powell said as I picked one up and squished it with my fingers. The narrow profile Thronos is one solid piece of EVA foam (in red, black, or white) crafted with what they say is just the right density. It's also completely waterproof and scuff-resistant. Powell says at just under $40, a lot of people will want to swap out their stock saddle for the Dios Thronos.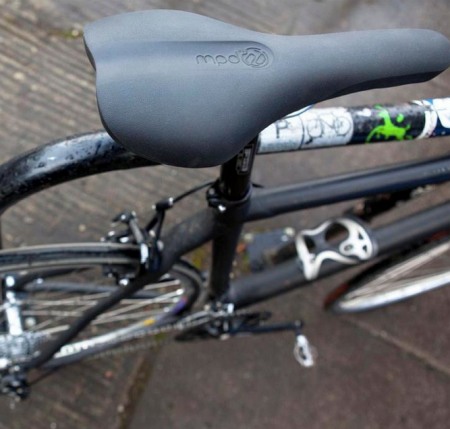 (Photo: Portland Design Works)
While lights might pay the bills, PDW is fast-becoming a leader in fenders.
The other product they were excited to show me were their Full Metal Fenders, PDW's first-ever, full-coverage metal fenders. These things have some nifty features that make them much easier to install than some other metal fenders on the market; like a cut-out under the fork for tight tire clearances, a special bracket for fitting around road brake calipers, and even handy little eyelets you can attach to the axle if your fork doesn't have them. Look for these to retail around $120 and be in shops by mid-October.
Another new fender from PDW are the "Dave Gray" fat bike-specific fenders. If you haven't heard, fat bikes are a fast-growing niche in the bike industry. With tires nearly 4-inches wide, the bikes can go anywhere — snow, sand, mud, or whatever you can throw at them. Olson said he realized fat bikes were a full-fledged movement after attending the "Frostbike" trade show in Minnesota in February. Their Dave Gray model pays homage to the man who designed the bike that started it all, the Surly Pugsley. Gray helped PDW with the design and lent his signature to the fender itself. Olson says he was honored that Surly put them on their Pugsley at Interbike. As for sales, they sold 600 units in the first month (at $20 for the front, $28 for the rear) and it looks to be another winner for PDW.
(Photo: Portland Design Works)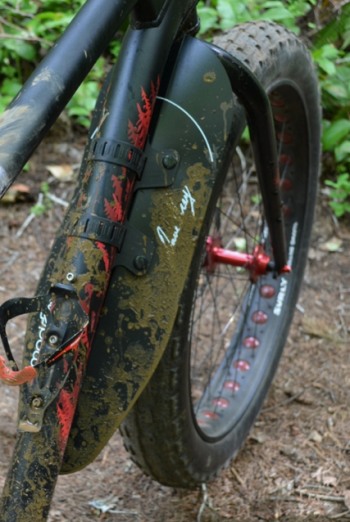 (Photo: Portland Design Works)
Rounding out their fender line, PDW now has an all-aluminum Xcalibur model. It's a clamp-on style fender that replaces their Machete model.
As you might have noticed with their Mach Schnell Goggles and other products in their "What Have You" category, PDW likes to keep things interesting. Along those lines is their new Bird Cage, a water bottle cage stamped out of a single piece of aluminum that takes on the shape of a swallow. Available next February-March for around $20 a piece, Powell says the Bird Cage is an attempt to have fun with what's usually a mundane part of a bike.
Far from easing into the bike industry, these products make it clear that PDW is pushing their way in and making a name for themselves. They're finding a sweet spot by offering shops a high-quality product at a good price, without all the commitments and strings that are attached to carrying the larger brands. They are also a favorite with the type of smaller, independent bike shops that dot Portland's streets. "The small shops are who give us the opportunity," says Powell, "They're quicker to embrace us."
While they appeal to small shops, they've also made inroads into some of the nation's largest bike retailers. Powell estimates their products are carried by about 1,000 around the country (out of about 3,000 total).
It's only been four years, but Sales Manager Kevin Murphy (who's been at the company for two years) knows PDW isn't a new kid on the block any more. "When I call shops, they know me now… When I say I'm with Portland Design Works, they pay attention… it wasn't like that before." But while their brand is solid and they're on solid footing for a young company, PDW is far from an industry juggernaut. "We haven't arrived yet," says Murphy, "But we're a hell of a lot closer."
— See more from Portland Design Works at RidePDW.com.