Posted by Jonathan Maus (Publisher/Editor) on February 2nd, 2012 at 8:49 am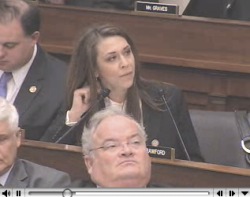 Clark County and SW Washington House Rep.
Jamie Herrera Beutler voted against an
amendment that would have set
aside funds for Safe Routes to School
and other projects to improve biking.
(Still from Committee video)
It was very close; but despite passionate defense of biking and walking by House T & I Committee member Peter DeFazio (D-Eugene), the Petri/Johnson amendment failed this morning by a vote of 29-27.
The amendment — which would have reinstated set-asides for Transportation Enhancements and the Safe Routes to School program — was debated this morning during the first markup hearing of the House transportation bill (a.k.a. the American Energy and Infrastructure Jobs Act).
"Look parents in the eye and say: We can't afford to help your kids to get to school safely."
— Rep. Peter DeFazio, House T&I Committee member during defense of Safe Routes to School
The vote was mostly split down party lines, with just three out of the 32 Republican members voting for the amendment. In addition to Reps Petri and Johnson, New Jersey Republican Frank Lobiondo also supported it. All the Democrats voted for it. (See the full list here.)
In his opening remarks, Rep. DeFazio was notably angry, accusing the committee members of never even reading the text of the several hundred page bill that was just released on Tuesday. Watch DeFazio's opening remarks below:
When the Petri/Johnson amendment — which would have reinstated funding for Transportation Enhancements and Safe Routes to School — came up for debate, DeFazio launched into a stirring defense of making streets safe for kids to bike and walk to school…
We don't have all the details of testimony by other committee members (we'll look for archive footage of the hearing), but one notable "no" vote to the amendment was Southwest Washington Rep. Jamie Herrera Beutler.
In another move reported from the debate this morning, the House bill would make a major change to transit funding and to a major source of bicycle-related funding, the Congestion Mitigation and Air Quality (CMAQ) fund. According to the Transportation Issues Daily blog, the bill would rename the Mass Transit Account (a set-aside pot funded via gas tax revenue) to the Alternative Transportation Account and would fund it through the General Fund. CMAQ would also be moved to the General Fund. Advocates fear this will make transit and CMAQ funds much less reliable in the future.
The failure of the Petri/Johnson amendment means the House bill will continue to be debated and marked up. And before it becomes law, the bill would have to be reconciled with a Senate version — so while this highway-centric legislation is frustrating and frankly shocking, there's still a long road ahead.
Even so, bike advocates are now emboldened after this defeat. Via Twitter this morning, BTA Executive Director Rob Sadowsky wrote: "What does the amendment loss mean? It means battle front moves to Salem. Join the @BTAOregon army." And national advocacy group America Bikes said, "Today's [hearing] was just one battle in the struggle to preserve biking walking in the federal transportation system. Onward!"
And here's how the League of America Bicyclists has responded:
"The amendment lost by just two votes. This was a strong showing in a very difficult political environment. The House leadership strongly opposed the amendment, so our strong thanks goes to Reps. Petri, Johnson, and LoBiondo for standing with their constituents and people everywhere who value walking and biking. If these Congressmen represent you, please let them know you recognize their efforts."