As part of their N Vancouver/Wheeler Access to Rose Quarter project, the Bureau of Transportation (PBOT) has added a green box to the median island on N. Interstate.
The idea is to help make the southbound left turn from NE Wheeler to Interstate easier and safer. It was interesting to watch bike traffic respond to the new treatment this morning.
When no auto traffic was present in either direction, people on bikes would turn left far south of the green box…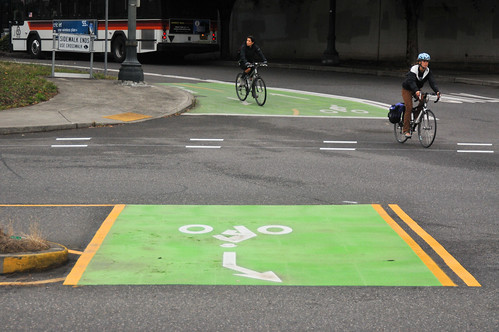 But when there was southbound auto traffic, they'd seek the safety of the box…
In addition to this change, the northbound bike lane on Interstate just past the signal near the Steel Bridge off-ramp now has a one-foot painted buffer, as does the southbound bike lane on NE Wheeler just past Weidler. Learn more about this project in my story from last week.
If you have questions or feedback about this site or my work, feel free to contact me at @jonathan_maus on Twitter, via email at maus.jonathan@gmail.com, or phone/text at 503-706-8804. Also, if you read and appreciate this site, please become a supporter.