Northwest Portland based parts distributor Cyclone Bicycle Supply is looking for someone to paint a bike-themed mural on the side of their warehouse. Company staffer Ashley Brewer contacted us recently to share that they want to spruce up their "big ugly gray" headquarters building at NW 21st and Vaughn.
Here's more from Ashley:

"We are looking for someone to paint the side of our building with an image/mural that promotes cycling in general… the actual message/artwork would be up to the artist. Basically…we just want more people on bikes. Period."
If you're interested in the Cyclone gig, get in touch with Ashley Brewer at ashley [at] cyclonebicycle [dot] com or (503) 226-0696.
I love public murals, especially ones that include bicycle imagery. Ashley's email inspired me to delve into the BikePortland photo archive where I found several images of local bike murals…
On south side of O'Bryant Square at SW Park and Washington downtown.
The Community Cycling Center mural at NE 17th and Alberta.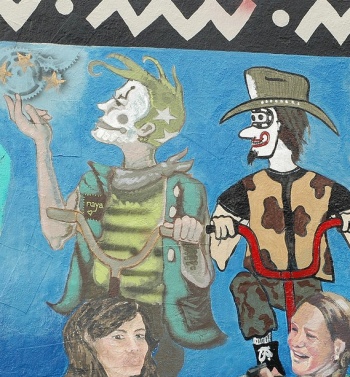 An homage to former Alberta Street resident Dingo the Clown on Alberta at around 29th.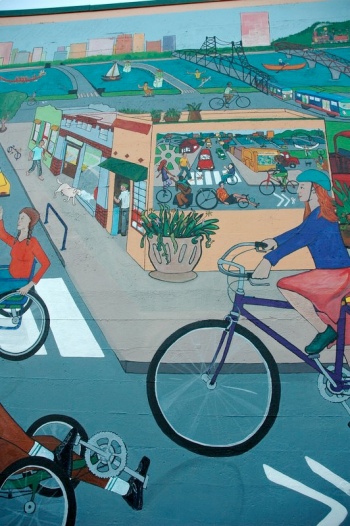 'Share the Road' mural at Hawthorne Auto Clinic (4307 SE Hawthorne).
I know there are more murals around Portland that feature bicycles. Perhaps I'll lead a Pedalpalooza ride this summer to visit and enjoy them all.
Contact Jonathan at @jonathan_maus on Twitter, via email at maus.jonathan@gmail.com, or phone/text at 503-706-8804. Also, if you read and appreciate this site, please become a supporter.