Sugar Wheel Works and Sweetpea
Bicycles will soon share a storefront
on N. Williams.
(Photo: Sweetpea Bicycles)
Portland's bicycle industrial complex continues to flourish even in these slow economic times. Bike businesses are hiring employees, expanding their reach, moving to new locations, and more.
Scroll down for several bits of news from local bike businesses, all wrapped up into one post for your reading convenience…
Black Star Bags moves to Hawthorne
The new Black Star/Double Darn storefront
on Hawthorne.
(Photo: Black Star Bags)
Dave Stoops' Black Star Bags has moved from Alberta Street in Northeast to Hawthorne Blvd. Stoops has made quite a name for himself by making bomb-proof, custom, and highly functional messenger bags, hip pouches, backpacks, and more. Previously located at NE 10th and Alberta, Black Star's new location is 2033 SE Hawthorne. The space is shared with another handmade bike accessory and apparel maker, Double Darn Clothing. Check out the Black Star Bags blog for more.
Veloce Bicycles sold, owner opens Europa Velo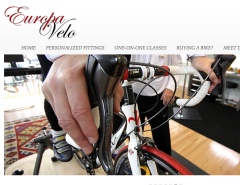 Screen grab of new Europa Velo site.
Veloce Bicycles owner Demetri Macrigeanis has sold his well-known shop on SE Hawthorne Blvd and has opened a new bicycle fitting business called Europa Velo. I heard some rumors about this and then read a story about it in The Oregonian on Tuesday.
Europa Velo is located at 1836 NW Overton and will focus on one-on-one bicycle buying consultations and fittings.
Ruckus Components hires new employee, expands service
Ruckus Components is a thriving business that has carved a strong niche for their expertise in carbon fiber repairs and products. Owner Shawn Small (who's also our Bike Science columnist), says they've expanded their repair services nationally and have a lot of interesting projects in the works (including a bike modified for a Paralympic athlete). Ruckus is also now the official, authorized factory repair center for SCOTT, a major bike brand.
BicyclingHub.com nabs "Silver" Bicycle Friendly Business award
Online and bricks-and-mortar bike apparel retailer BicyclingHub.com has earned a Silver designation from the League of American Bicyclists for its bike-friendly business practices. The award was announced at the recent National Bike Summit in Washington, D.C. For 2011, BicyclingHub.com says they plan to launch a mini-grant program for community groups that promote bicycling and sponsor a cyclocross team in the coming Cross Crusade series.
Sugar Wheel Works and Sweetpea Bicycles set to open new retail storefront
Custom wheel-builder Sugar Wheel Works (formerly Epic Wheel Works) and local framebuilder Sweetpea Bicycles are joining forces and plan to open a new storefront in the Hub Building at 3808 N. Williams Ave (same building as Tasty N' Sons, Lincoln, etc…). We'll have more details on this big move later, but Sweetpea's Natalie Ramsland tells us she'll use the space to do personal consultation and bicycle fitting for her customers.
If you have questions or feedback about this site or my work, feel free to contact me at @jonathan_maus on Twitter, via email at maus.jonathan@gmail.com, or phone/text at 503-706-8804. Also, if you read and appreciate this site, please become a supporter.