Posted by Jonathan Maus (Publisher/Editor) on March 11th, 2011 at 8:58 am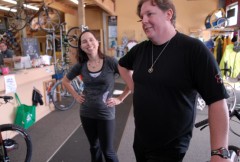 Elliott and Daniella Crowder, owners of Bike Newport.
(Photos © J. Maus)
As tsunami waves begin to reach the Oregon Coast this morning, owners of the Bike Newport bike shop say they escaped the rising waters by sleeping in their shop overnight.
Elliot and Daniella Crowder's shop won a national award as a haven for Oregon coast bike tourers last year because it has all the comforts of home. I bet they never thought they might be the ones who needed them. Reached on the phone this morning, Ms. Crowder says her family fled their sea-level home and spent the night in the shop.

"Our house is at 14 feet above sea level… We live in a neighborhood where all the stop signs have the red tsunami colors around them. We were watching the news last night at about 11:00 and an expert from PSU was saying, 'If I lived anywhere near the beach, I'd be evacuating right now. Then, our home tsunami alarm went off at about 11:30. That was the first time it ever went off, and that was scary. So, we got our son, wrapped him up in a blanket and spent the night in the shop because it's on higher ground."
Crowder also reports that there was a run on gas early this morning on Highway 101 and traffic has been snarled in several locations. "They had cones out for traffic where people were lining up for gas. It's been pretty crazy out there."
RVs and campers, kicked out of nearby State Parks and campgrounds right on the beach have crammed into parking lots all along the highway.
Elliot Crowder returned to their home at 5:00 am this morning to retrieve their dog and said the whole neighborhood was "like a ghost town."
The Crowders are in good spirits and are just waiting like everyone else. "They said it wouldn't be until this after afternoon when we can go back home."
The tsunami warnings in Oregon follow a major, 8.9 magnitude earthquake in Japan last night. You can follow Oregon coast tsunami coverage via The Oregonian here.