Concept drawing of Trolley Trail, which is all set to break ground.
(Graphic: Trolley Trail Master Plan)

Officials in Clackamas have announced that they're all set to break ground on the much-anticipated Trolley Trail project. The $4.2 million, six mile biking and walking trail will follow historic streetcar right of way connecting downtown Milwaukie with the city of Gladstone.
Matt Menely, a Milwaukie resident and small business owner who is active in transportation advocacy, says the Trolley Trail will have a huge impact. After I learned news of the groundbreaking today, I asked him to comment about the project…
"Once completed I feel that the Trolley Trail has the potential to become equal to the Springwater Trail in terms of its popularity and it's ability to draw a diverse range of users. I'm hopeful that in the future we will be able to connect the North end of the Trolley Trail to the Springwater Trail with improved amenities for cyclists on existing roads, or ideally as a continuation of the Trolley Trail through Milwaukie in the form of a separated bike/pedestrian path."
Here's a map of the route…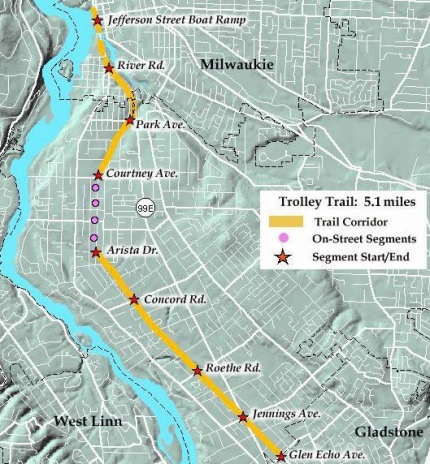 The project is expected to take only nine months to build and work is expected to take place in segments. For construction updates and more background information on the trail, visit the official project website.