West End Bikes co-owner Mark Ontiveros stands outside his shop on SW 11th and Stark.
(Photos © J. Maus)

Get ready Portland, a major new bike shop is set to open its doors. West End Bikes, a gleaming store that beckons passersby on the corner of SW 11th and Stark will officially open for business any day now. On Sunday, I just happened to bump into shop co-owner Mark Ontiveros and he offered to show me around.
I know it seems like bike shops open up here in Portland every other week, but this is different. With its size, the experience of Mark (a bike business veteran) and his partner Mike France, backing from Specialized Bicycles Inc., and a professionally crafted brand, West End Bikes is likely to become one of the top shops in town the moment it opens for business. And in Portland, that's saying something.
Scroll down for more photos and notes from my quick look around…
The gorgeous line of Beloveds dominates the front window…
West End is a Specialized concept store, which means you'll see lots of parts and a full line from the big "S" in addition to their other brands…
I guess since saddles are sort of boring, Mark and Mike decided to spice up the display with a full-carbon custom Calfee tandem…
While West End carries several very high-end brands (Wilier, Calfee, Beloved, Assos, Mission Workshop, and others), they also carry Surly…
Mark has a real expertise in apparel, so expect West End to be the shop for the best-looking bike clothes you'll find anywhere. Here's Mark showing off a pair of bike-friendly dress pants from Outlier. Outlier is made in New York City's garment district and it's very, very nice stuff (West End is their exclusive dealer in Oregon)…
Now this is my kind of riding shirt (also from Outlier)…
The signage is very pro (the branding is by Portland-based weights&pulleys, the same firm that developed the Beloved Cycles brand and that did Lance Armstong's Mellow Johnny's shop in Austin). The vertical letters are raised up from the wall a few inches…
And the shop makes a proud pronouncement on the corner of SW 11th and Stark…
With floor-to-ceiling windows on two sides, the shop has tons of natural light, and it's even got a remnant of its former resident, Django Records…
Mark was very excited to show off the new Team West End Bikes kit…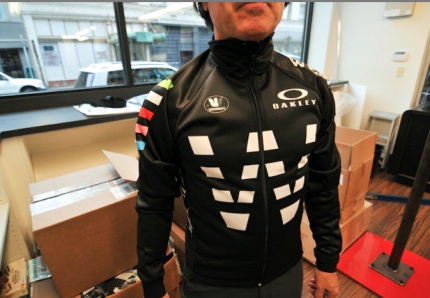 Here's a wide shot taken from the loft at the back of the shop (which will be their fitting studio)…
Mark and Mike were beaming. They're extremely excited to be so close to opening. They've put a ton of hard work into this shop and they are both passionate about the bike business and about our community. I wish them nothing but success and urge everyone to give them a warm welcome…
And there are a few more surprises yet to come… On the SW 11th side, a roll-up garage door will be going in. It will open up to a lounge with comfy chairs, magazines, a library of books and a big screen TV. Also to come on the SW 11th side is a big mural of the City of Portland bike map. I can't wait to see how that turns out!
Check out a few more photos in our gallery and follow us on Twitter for an update on West End's official first day of business (which Mark says could be tomorrow or Wednesday).