The City of Portland Parks and Recreation Bureau has installed new bumps — a.k.a. "transition strips" — on one of the ramps (gangways) that leads to the floating portion of the Eastbank Esplanade. The installation is a pilot to determine if the new strips improve the experience of bicycling on the ramps.
Back in July, we detailed the problem with the existing bumps and ten days later I met at the site with Parks Bureau staffer Bob Downing to talk about the issue. The problem with the old bumps is that they are jarring, loud, and so severe that they catch many riders unaware and can lead to crashes.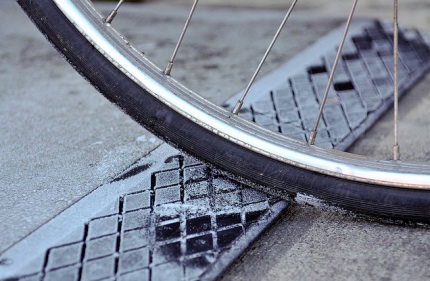 Downing says they've installed a new transition strip (in photo above) that has a less severe angle (and some traction marks for good measure). The Parks Bureau will be analyzing the new part and is looking for feedback on whether or not they improve the riding experience. The new strip has been installed on the far southern end of the ramps. If you've ridden over them, please share your experience below.