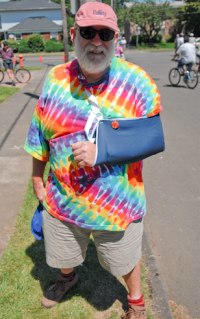 Ron Richings, one day after his crash.
(Photo © J. Maus)
Vancouver, BC resident Ron Richings has visited Portland for the past several years to take part in the annual Pedalpalooza events. On June 26th, he was leading a ride of his own — the Momentum Meander — when he learned a hard lesson about one of Portland's most prominent bikeways.
Richings was riding north on the Eastbank Esplanade. As he descended down the ramp that leads to the floating portion of the path (under the Burnside Bridge), his bike hit one four bumps that act as transitional lips between ramp sections. The bump shook his bike, causing a bungee strap to dislodge, become entangled into his wheel and crumpling his front fork. He flew over the handlebars and landing on the concrete walkway. Richings ended up in the hospital and still has pain in his shoulder.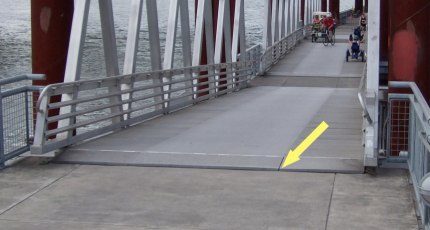 Arrow points to bumps.
Doug Sottoway saw the crash and said, "It was a 10 in terms for crash horrifics."
Aftermath.
(Photos: Ron Richings)
Many Portlanders have stories about these bumps. They are only an inch or two in length, but their extreme angle makes for a jarring experience — both physically and audibly — when you roll over them. The bumps have claimed numerous victims.
After his crash, Richings returned to the spot to examine the bumps and talk with other riders. "I heard repeated tales of injuries, ambulance calls, damage to equipment, and loss of accessories like headlights, blinkies, and similar stuff. Appears to be a well known hazard by those who live in Portland, and a potential trap for visitors like me."
"To have a major transportation route with a built-in hazard seems bizarre to me – particularly for a city putting so much focus on cycling infrastructure."
Richings then fired off an email to the City of Portland Bureau of Transportation (PBOT) to share his experience and his concerns. "To have a major transportation route with a built-in hazard seems bizarre to me – particularly for a city putting so much focus on cycling infrastructure," he wrote.
The section of the Esplanade where these ramps are located falls under the jurisdiction of Portland Parks and Recreation (which might explain why no one from PBOT has replied to him yet).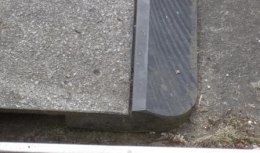 Nasty little buggers.
George Hudson, currently a consultant with Alta Planning, helped design the ramps as a member of Parks' staff when they were designed back in 2000.
When I asked him for information about the bumps (he calls them "aluminum transition plates"), Hudson pointed out that the entire system was designed to move with the tides. "Some people don't realize that the gangways and floating walkway are dynamic, they move. The transition plates on the gangways are the most dynamic pieces of the system, they move the most, making up the grade difference between each gangway."
Hudson also acknowledged that they make a loud noise when hit by someone on a bike, and that, "We did not see that as a bad thing when we designed the walkway, they give an audible warning by default, and I'd say they have an added affect of slowing people down, though the plates were not designed with that in mind."
Hudson says if there is evidence of crashes, he thinks the plates could be replaced with longer plates that transition the grade more evenly.
Parks department spokesperson Beth Sorensen says their Risk Management division has no reports of incidents. In the course of doing this story, I have brought the issue to Parks' attention and they have committed to visiting the site to do an evaluation. Sorensen says the first thing they might be able to do is add warning signs. She's also working to find out a hotline phone number people can call to report crashes in the future.
Meanwhile, Richings has begun physiotherapy for his shoulder (doctors say it will take 6-8 weeks for inflammation to subside) and he remains perplexed that the problem has persisted for so long:
"In a properly designed and built path the city would make sure that such hazards are corrected, not rely on riders to compensate for them. Would something like this be allowed on I-5? Of course not… It isn't enough to build infrastructure. There has to be ongoing maintenance and review of problems to make sure that the system is cycling-friendly."
I'm planning to visit the site with a Parks employee and someone from the Bureau of Transportation in the coming days. I'll keep you posted on any developments.
If you have ridden over these bumps, please share your experiences and ideas for solutions below.
UPDATE: Here's the official statement from the Parks Bureau:
Two recent incidents on the floating docks along the Eastbank Esplanade have been brought to the attention of Portland Parks & Recreation. Specifically, two accidents by cyclists have occurred on the edges of the floating pathways.
 
All users of the Eastbank Esplanade, and specifically the floating walkways, need to be aware that this is a dynamic environment and the ramps and their edges are a complex structure designed to accommodate the location, which is functionally similar to entering a ramp to a boat dock. These edges were design to allow the dock to move with the rising and lowering water levels in the river. Because the river levels fluctuate daily, as well as seasonally, the edges of the ramp can become higher or lower in a very short amount of time.
 
Our Services staff is evaluating the site and any issues which might have contributed to the two recent incidents and will explore measures to mitigate the situation. Staff hopes to meet on site with cycling community representatives, to clarify issues and obtain their input from the cycling perspective.
 
In the meantime, staff is already looking at improving signage at those sites. While existing signs alert cyclists to use caution on the floating ramps themselves, additional signage is being considered that calls attention to the bump at the edge of the ramp.
 
Cyclists should exercise particular caution at those locations, just as you would crossing over a train or streetcar track. Slow down and approach the ramps straight on, and not at an angle.
 
Prior to these incidents, PP&R had not received notice of any safety concerns associated with this specific issue.
 
If people experience accidents or witness incidents on the Eastbank Esplande, they are encouraged to contact Barbara Aguon, PP&R Risk Manager, at 503.823.5478 and file an incident report.