A source that works for the City of Vancouver (WA) sent this info over the other day (photos of the new lockers below):
"Three weeks ago we installed 4 more Bikelink lockers in our downtown area, bringing the total number of lockers to 9. This project was part of our Destination Downtown project, and was funded through a grant from the Washington State Department of Transportation. The BikeLink lockers are "on-demand" facilities that users can rent by the hour with an electronic key card. At this time we are charging 5 cents an hour for the lockers.

New locations:
SE corner of Columbia Street and W Evergreen Boulevard
NW corner of Main Street and W 11th Street
NE corner of Broadway Street and W 7th Street (1st locker before the C-TRAN lockers)
NE corner of Main Street and E 20th Street

Existing locations:
1300 Franklin Street on south side of Clark County Public Service Center – 4 lockers
NE corner of Columbia and 6th Street – 1 locker"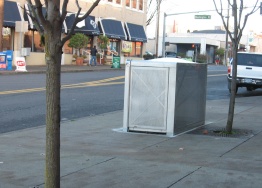 Vancouver was the first city in the Northwest to install on-demand, debit card access bike lockers. We covered the first installation (across from Esther Short Park) back in June 2006.