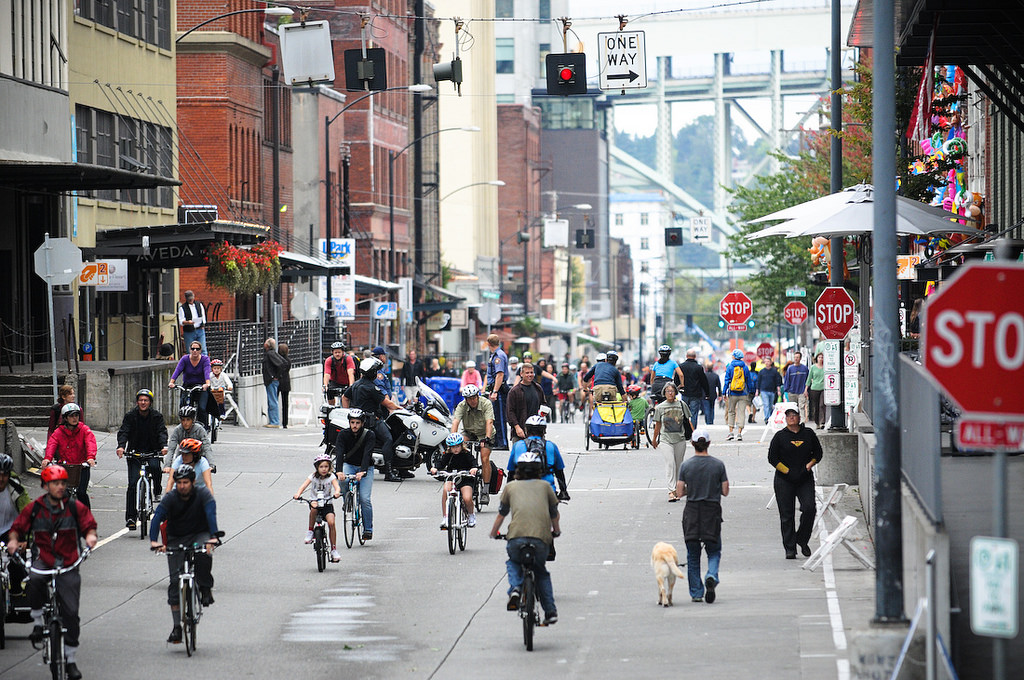 While riding from the South Park Blocks to Pioneer Courthouse Square with my daughters and several other families and kids on Saturday, a recurring thought popped up: Despite all our livability accolades, Portland lacks carfree streets — places where people can move around, shop, linger, and socialize without being harassed by the threat of cars, trucks, trains and streetcars running them over.
As a group of us met for the Kidical Mass Ride at the South Park Blocks, I remembered City Commissioner Randy Leonard's exciting (although off-the-cuff) pronouncement two years ago that he was "intrigued" by carfree streets after a trip to Copenhagen. He specifically mentioned that the South Park Blocks would be a great candidate.
There are a lot of reasons why Portland is primed for more carfree space downtown, but for some reason it hasn't happened yet.
The South Park Blocks — home to our city's largest art museum, university, and theaters — isn't the only place we might give carfree streets a try.
How about Director Park, just north of the Park Blocks between SW Yamhill and Taylor? Is it really necessary to retain motor vehicle access through the park on SW Park and 9th? We built a fantastic new park adjacent to a large movie theater and a popular cafe, but we still allow cars to park and drive on the narrow little road between the two.
There's also SW Ankeny, the site of Carfree Day back in 2006. Between Naito and 3rd it's just a tiny alleyway. With historic buildings and tourist sites (like Voodoo Doughnuts), it has tons of charm that would make for an ideal carfree plaza. Or how about a few blocks west on Ankeny between SW Park and Broadway?
On a more high-profile scale, my new favorite dream is to think of NW 13th Street in the Pearl District becoming a pedestrian plaza. You've probably already strolled down it during First Thursday or during the recent Sunday Parkways event. With its collection of great shops and restaurants, 13th would be a major downtown attraction if it were given the safety and space-saving benefits of being carfree.
Carfree street space in lower Manhattan.
(Photo: Noah Budnick)
There's a lot of precedent for creating more carfree space in cities. New York City is leading the way in the U.S., and Latin America and Europe have been doing it forever.
Here in Portland we seem to have forgotten about this issue. I don't know of any organized advocacy effort around creating more carfree space, and no local politicians have made a peep about it since Leonard's comment two years ago.
Why not?
I now turn to you with some questions…
Do we really need to be able to drive down every single downtown street?
Is creating world-class public space (that's not surrounded by motorized zones like Pioneer Square) a political risk? Are our progressive city leaders afraid of push-back from businesses who say they need private motor vehicle parking and access in front of their storefronts or else they'll move to the suburbs? Or, perhaps they'd be happy to vote for a carfree street pilot project, but no one has put together a proposal for one? If that's the case, which local advocacy group(s) might be best suited to organize and propose a carfree street pilot project?
What are we waiting for Portland? We can do this… can't we?