Posted by Jonathan Maus (Publisher/Editor) on October 21st, 2010 at 4:33 pm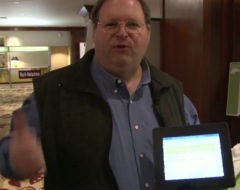 Chris Smith and his "Transit Appliance".
-Watch video below-
Transportation expert, blogger, and citizen activist extraordinaire Chris Smith unveiled his new "Transit Appliance" at the Rail-volution today. The new device is simple but has potential to be extremely effective.
With a $179 device, some open data, and a wi-fi signal, Smith's Transit Appliance (could use a better name perhaps?) broadcasts transit arrival information for anyone that happens by. It's sort of like the arrival/departure screens at the airport.
Watch the short Streetfilm below for a quick introduction by Mr. Smith himself:

The World's First "Transit Appliance" from Streetfilms on Vimeo.
I love this! It's the perfect marriage of open data (and agencies like TriMet that are cool enough to 1) have it and 2) share it) and a passionate and smart citizen activist. Nice work Chris. I hope to see these screens popping up all over town… and who's to say these devices couldn't be hacked to offer bike route information?
Read more at PortlandTransport.com.