Burley's Travoy brings home
the gold (and the groceries).
Burley Design, a Eugene-based company known for its bicycle trailers, has won big at the Eurobike trade show that kicked off today in Friedrichshafen, Germany today. Eurobike announced today that Burley has won a 2010 Eurobike Gold Award for their new Travoy cargo trailer.
The Travoy was awarded in the Accessories category and design credit was given to Aaron Beese, Joel Wilson, Gwen Spencer, and Chris Casler. The expert jury that doled out the award said the Travoy is "an impressive contribution to bicycle mobility" and that it's, "A good idea that has also been well implemented."

417 products from around the world were in the running for an award. Of those, the jury chose 92 winners, with the 12 most innovative being honored with the GOLD award.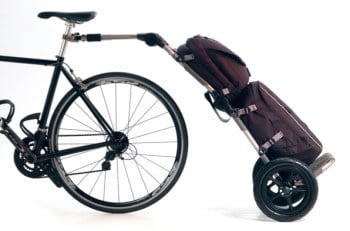 The Travoy is a departure for Burley. Instead of carrying kids or cargo with the common trailer design they helped standardize, the Travoy attaches to a bike's seatpost. It folds up when not in use and it goes from being pulled behind your bike to being used as a hand-truck/shopping cart in seconds.
We took a first look at the Travoy back in February and were immediately impressed by it. A few months later, reader Chris Sullivan followed up with a positive review of his own.
Congrats to Burley! Way to put Oregon on the international stage.
Jonathan Maus is BikePortland's editor, publisher and founder. Contact him at @jonathan_maus on Twitter, via email at maus.jonathan@gmail.com, or phone/text at 503-706-8804. Also, if you read and appreciate this site, please become a supporter.