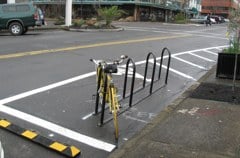 New on-street bike corral.
(Photo: Jennifer Campos/City of Vancouver)
Back in October, we brought you news of an on-street bike parking facility that was planned for installation on Main Street in Vancouver, Washington (just a short hop over the Columbia River, north of Portland).
I'm happy to report that it has been installed! Leah Jackson, owner of Angst Gallery — which is adjacent to the new bike parking — sent in this photo:
(Photo: Leah Jackson)
The new bike corral is located on the east side of Main Street, just south of W 11th Ave. More information about bicycling in Vancouver here.