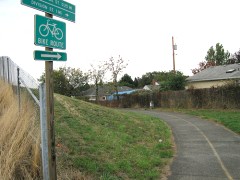 In need of trees! And you can help.
(Photo: Friends of Trees)
Local non-profit Friends of Trees will start a major tree planting effort along the I-205 bikeway this weekend. Under their "Green Space Initiative" project, and in partnership with Metro and the Oregon Department of Transportation, Friends of Trees will plant about 150, four-to-six foot trees at four different locations along the path.
We love trees on bikeways for several reasons; they create a visual and sound barrier between riders and the highway, they make our planet healthier, they give us shade in the summer and protect us from rain and wind in the winter.
advertisement
The four plantings will start Saturday and will run through March of next year. Here are the dates and locations:
December 19th – SE Yamhill & 94th
January 9th – NE Marine Dr. & 112th
January 23rd – 10600 NE Holman
February 20th – SE Pardee & 94th
Friends of Trees is inviting everyone in the community to help get these trees in the ground. For more information on how to get involved (basically, you just show up and they take care of everything else), check out this post on the Friends of Trees blog.