Posted by Jonathan Maus (Publisher/Editor) on November 5th, 2009 at 9:07 am
Sunset Blvd like you've
never seen it before.
(Graphic: Colleen Corcoran/
cicLAvia
)
Two bits of news that came across my desk in the last 24 hours speak to the growing momentum (should we call it a revolution?) across America for carfree streets and more dedicated space for bike traffic.
According to an article published in the Los Angeles Times yesterday, a group of Angelenos calling themselves cicLAvia are pushing the city to plan an event similar to Bogota's ciclovia (which also inspired Portland's Sunday Parkways events).
On their website, cicLAvia has posted visualizations of how the event could transform the city's landscape. L.A. is the epicenter of our nation's car culture and it would be amazing if they could pull of a large-scale event like this.
(A ciclovia in L.A. might also do wonders for the currently strained relationship — which an LA Times op-ed describes today as being on a "collision course" — between people who drive cars and people who ride bicycles in that city.)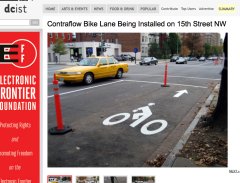 On the other side of the country, word comes this morning that Washington D.C. has installed their first cycle track. The new facility, on 15 Street NW, is not very long but local resident and League of American Bicyclists staffer Jeff Peel says "the enthusiasm" for biking by new DOT Director Gabe Klein is "definitely a nice change of pace".
D.C.'s new cycle track is also noteworthy because it has bike traffic going against motorized vehicle traffic — a.k.a. contraflow. There's a detailed report and analysis of the cycle track design published here by the excellent blog Greater Greater Washington.
It's exciting to learn about these developments happening in cities all across the country.
Jonathan Maus is BikePortland's editor, publisher and founder. Contact him at @jonathan_maus on Twitter, via email at maus.jonathan@gmail.com, or phone/text at 503-706-8804. Also, if you read and appreciate this site, please become a supporter.