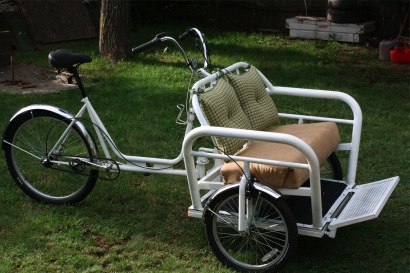 The WheelBurro with a carriage attachment.
(Photos by H2M2)
Rick Dunaven from Eugene thinks he's onto something with his new cargo trike design. His "Wheelburro" is the latest new twist in the ever-growing niche cargo bike market.
Dunaven says his design is based off similar trikes he saw on a trip to Mexico. He's already sold one to the Oregon Zoo in Portland and the University of Oregon has taken delivery of one as well.
The Wheelburro sans attachment.
Unlike many pedicabs seen around Portland, Dunaven's trikes put the people (or cargo) in front. "I thought it would be much safer and comfortable for the cargo or riders if they were placed in front. That way the riders have the best view and a nice breeze on their face."
Another nifty feature of the Wheelburro is that Dunaven can change out the carriage attachment to suit a number of uses. And, since the various attachments are secured with just eight bolts, "you can switch from one to the other in minutes."
advertisement
Dunaven designed the trike and builds the custom attachments. For the trike's main frame tubing, he has contracted with a steel fabrication shop in Eugene. The basic Wheelburro sells for $1,695 and attachment prices vary (the pedicab one shown above is $475).
Wheelburro is sold by Dunaven's new company, H2M2, LLC. Check out their just-launched website for contact info and more details.