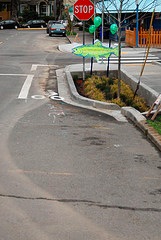 An example of a curb extension
with a bioswale (at SE Clay and 11th)
(Photo © J. Maus)
The city plans to turn SE Division Street into a "green main street" between SE 6th and SE 39th.
Division Streetscape and Reconstruction project manager Elizabeth Mahon presented draft intersection redesign plans to the city's Bicycle Advisory Committee last night, requesting feedback.
The project will give SE Division a green makeover, largely focused on capturing stormwater runoff in new curb extension bioswales. Project staff are currently looking at installing these and making on-street parking for cars and bicycles permanent along much of the corridor.
Currently the outside lanes on Division are "pro-time" or provisional lanes, which are through traffic lanes at peak hours and available for parking at other times. An analysis commissioned by the city found that these lanes are underutilized.
The project aims to add regular, permanent streetside parking in between swales, and will also include on-street bike parking. Project staff also hope to include the "pedestrian realm extending out into that parking lane."
Mahon shared that several on-street bike corrals to meet current parking demand will be installed along Division "soon." The streetscape project will include further on-street bicycle parking facilities.
Traffic statistics commissioned by the city show that only at major intersections are two full lanes needed to keep traffic flowing during peak hours without diverting traffic onto side streets — such as the nearby SE Clinton bike boulevard which is currently receiving artistic enhancements to mark it as a bicycle route.
The same traffic statistics show that at the seven corners intersection at SE Division, Ladd, and 21st some lanes carry is more bicycle traffic than car traffic during peak hours.
advertisement
Mahon was specifically requesting input on ways to redesign the seven corners intersection to better "organize" traffic flow through the intersection, and particularly to decrease conflicts between bicycles, cars, and buses. Currently on the table is a design which would include sharrows in the outer lanes of Division Street and bike boxes at SE Ladd southbound and SE 21st northbound.
The project has been fully funded, and is currently in the development phase. According to the project's web site, it will be funded by a $2.5 million federal grant and by $3.3 million in city transportation funds. If more funding comes along, Mahon said, more features will be included.
Construction is expected to begin in 2011.