In case you haven't heard, the City of Portland's Bureau of Transportation is smack dab in the middle of a major campaign to create 15 miles of new bike boulevards in Portland.
We've covered the projects and the process behind them in recent months (ever since Mayor Adams made the "15 Miles" part of this 100 Day Action Plan), but we've yet to delve into detail on them one-by-one.
With that in mind, we had PBOT traffic safety specialist Greg Raisman by our office this morning to share the latest on what they've got in store for the Going Street project. Raisman — along PBOT Traffic Safety Program Manager Mark Lear, City Traffic Engineer Rob Burchfield, and others — is a key member of the City's bike boulevard team.
The Going St. bike boulevard project is one of eight bike boulevards PBOT is focusing on right now (see the full list here); it's also the longest and most expensive. The project will create a family-friendly, traffic-calmed bicycle corridor on N. Going Street from N. Vancouver Avenue all the way east to 72nd. According to an estimate by PBOT project manager Kyle Chisek, it will cost an estimated $250,000 (out of a total pot for the first 15 miles of $780,000).
advertisement
"Going already works pretty well for bikes, so what we're trying to do is protect that residential character."
— Greg Raisman, PBOT
Going Street was selected by PBOT because it is already a fairly nice street for bicycle traffic. It is direct and motor vehicle traffic volumes and speeds are relatively low. Raisman said they selected streets like Going for two main reasons; because they will allow PBOT to end up with a "great product" and because they create fewer issues for residents on neighboring streets (in terms of displaced traffic).
"Going already works pretty well for bikes, so what we're trying to do is protect that residential character." Raisman also put their design goals into context by adding that, "Everyone that lives on the street has to be able to drive to their front door… we're trying to target cut-through traffic."
Another thing going for Going is that it was the focus of a campaign by the Bicycle Transportation Alliance over a year ago. The BTA's "Let's Get Going" campaign paved the way for the City to step in for the final push.
Before coming up with their designs for the Going project, PBOT held two open houses (accompanied by mailing letters to all residents on the street). The first open house the City was careful to not have any proposals in mind. "We just say, here's what we've learned [about traffic volumes, speeds, and so on] and here are some general ideas on how to improve the street."
PBOT then documented all the neighborhood feedback and meshed that with their data analysis and engineering expertise to come up with a host of changes to the street that they hope will make it more pleasant, safe, and efficient for human-powered traffic.
PBOT's new left-turn pocket for getting onto
Going from Vancouver.
(Design not final)
Starting on the western border of the project at N. Vancouver, people will notice the first big change. As riders roll south in the Vancouver bike lane, at Going they'll come to what PBOT calls a "left-turn pocket". This will be a lane that veers to the right of the bike lane in order to help folks line up and point east onto Going. This new treatment will make crossing left out of the bike lane possible without having to do a vehicular, take-the-lane style left turn (which, despite its effectiveness, simply isn't something that feels comfortable for many people). Says Raisman, "[The left turn pocket is] an opportunity to make a left from a stopped and protected position".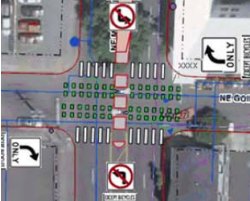 New medians and a "crossbike" would
be added to MLK.
(Design not final)
Once onto Going, the next big infrastructure improvement you'll notice is at the crossing of MLK Jr. Blvd. To make this crossing more comfortable, PBOT plans to extend the existing median island and create what they call a "median barrier" — concrete blocks that provide pass-throughs for bikes only. In addition to the median barriers, PBOT will add "zebra stripes" the standard crosswalks that exist. Another new innovation you'll see at MLK is a new crosswalk for bikes that PBOT is calling a "crossbikes".
This new bike crossing treatment will consist of pavement markings (represented by green dots in graphic above — they're still ironing out the exact design) across the entire intersection to warn motor vehicles that bikes are present.
Raisman said a pedestrian/bicycle activated traffic light was considered, but to do budget limits and operational challenges (there's already a light at Prescott), they decided against one. A median barrier was considered for the crossing at NE 15th, but PBOT won't install one now, opting to evaluate the situation after the boulevard project is complete and re-consider adding one later.
Heading further east, the next major change is coming to the intersection of NE 33rd. This is not only a major arterial street, it is also what engineers call an "offset intersection", meaning traffic on Going must travel on it briefly before picking up the street again on the other side.
Two-way cycle track is planned at NE 33rd.
(Design not final)
In order to facilitate this crossing, PBOT plans to install their first-ever two-way cycle track. Here's how it would work:
Going will become "out-only" for motor vehicles (meaning cars won't be able to turn into Going from 33rd). Curb extensions with bioswales will be installed on Going to prevent motorized traffic from turning in.
Bike traffic headed west would go straight across 33rd and enter a 12-ft wide, two-way cycle track* to be installed on the west side of NE 33rd. The cycle track will be raised above the roadway and separated from the sidewalk with a planting strip. Westbound bike traffic would travel south and then transition onto Going to continue west.
Eastbound bike traffic will enter the cycle track, travel north, and then continue straight across NE 33rd onto Going.
To warn motor vehicle traffic on 33rd that bikes are crossing, PBOT will add a shared-lane marking (sharrow) on 33rd near the northern entrance to the cycle track. Zebra striping will be added to existing crosswalks north and south of the new cycle track to further warn cars that bikes are present.
*You'll notice in the graphic that the bike traffic crosses itself at the exit and entrance to the cycle track. Raisman said PBOT did this after hearing feedback that people wouldn't feel comfortable riding against motor vehicle traffic on NE 33rd. Raisman acknowledged that concern but also admitted that having bike traffic cross itself twice is less than ideal. The design is not final yet and Raisman said they might decide to have no directional markings at all.
Further east, the route jogs up to NE Alberta Court (one block south of Alberta Street) at 41st. PBOT decided to take advantage of an existing pedestrian signal to cross NE 42nd (another major arterial) and then the route makes another jog north to NE Alberta Street at NE 47th. The route remains on Alberta St. all the way until 72nd.
Another major change to Going that people will notice is that PBOT will flip 18 stop signs and add 33 speed bumps along the entire route.
The project is expected to be fully completed by the end of June 2010. You can learn more about this and the other bike boulevard projects on the City's website.