Posted by Jonathan Maus (Publisher/Editor) on July 15th, 2009 at 12:41 pm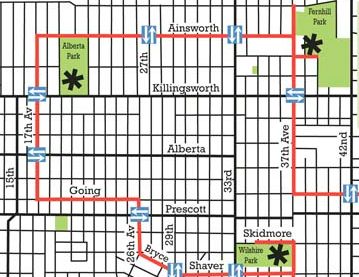 Map detail of Northeast Sunday Parkways event planned for this Sunday.
The Bureau of Transportation is gearing up for the second of their three Sunday Parkways events this year. On Sunday, the City will open up seven miles of streets in Northeast Portland to the community. Motor vehicles will not be allowed, so the streets will blossom with activities and energy from the neighborhoods.
The Northeast Sunday Parkways route will go through Vernon, Concordia, Cully, Alameda, Sabin, and Beaumont-Wilshire neighborhoods and it will feature loads of activities, food, and more at three parks — Alberta, Fernhill, and Wilshire.
The event goes from 9:00 am to 4:00 pm, so head out and enjoy your streets in a way you've never been able to before.
Last month's Sunday Parkways in North Portland was a huge success and organizers hope this new route brings out big crowds.
To make sure the event goes off without a hitch, PBOT says they need 300 volunteers…and with just a few days until Sunday, they're still short. Volunteer Coordinator Janis McDonald is looking for more "Intersection Superheroes" to work short shifts. It's a great way to give back to the community and to take part in Sunday Parkways.
You can register to volunteer online here.
If you have questions, contact Janis at (503) 823-5358, or via email Janis.mcdonald@pdxtrans.org.
See you on the streets!
Jonathan Maus is BikePortland's editor, publisher and founder. Contact him at @jonathan_maus on Twitter, via email at maus.jonathan@gmail.com, or phone/text at 503-706-8804. Also, if you read and appreciate this site, please become a supporter.