Northwest Bike Show booth.
(Photo © J. Maus)
Two new bike shows are being planned for the Portland area in 2010.
The Northwest Bike Show, "Where cycling comes full circle", is slated for February 20-21 and will take place inside a 54,000 square foot hall at the Portland Expo Center. The event is being put together by the Hilsboro-based Convention & Meeting Planners of Oregon, Inc. (they're also behind the Rose City Bridal Showcase). The CEO of the company, Lora Heil-Frone, has a booth here at the Oregon Bike Summit. She said highlights of her Northwest Bike Show will include a kids safety area, a performance stage, and hopefully (she's still working on it) a stunt riding performance by the Dew Action Sports team.
advertisement
If you'd like to be part of this show, as an exhibitor or a presenter/performer, contact Lora Heil-Frone at sales@cmpor.com.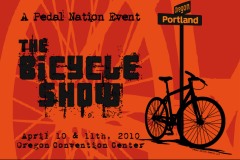 On April 10th, Hillsboro resident Aaron McBride will open the doors on "The Bicycle Show". McBride's event will be held at the Oregon Convention Center. McBride, who runs Pedal Nation Events, says his show is set to be "the largest consumer bicycle show in the state of Oregon".
Also in the local bike show mix in the coming months is the 2009 edition of the Oregon Manifest. I met with Manifest director Jocelyn Sycip a few days ago. They've got some very exciting things in the works for their show.
Stay tuned for more on all these shows in the months and weeks to come.
Contact Jonathan at @jonathan_maus on Twitter, via email at maus.jonathan@gmail.com, or phone/text at 503-706-8804. Also, if you read and appreciate this site, please become a supporter.