Posted by Jonathan Maus (Publisher/Editor) on April 17th, 2009 at 11:16 am
Traffic on the busy riverfront path in Waterfront Park will soon feature several new types of pedal-powered vehicles.
Yesterday I learned more about a new bike rental business that will be based inside the former McCall's Restaurant building just south of the Salmon Street Fountain.
advertisement
The new shop will be called Kerr Bikes and it will be run by the Albertina Kerr Foundation, a non-profit that supports youth and families with mental health challenges and children and adults with developmental disabilities.
Will Armistead will manage the shop. He told me yesterday that they're set to open for business on May 2nd and will have a grand opening event in June. They'll offer seven different types of bikes, with names like "Quad Sport", "Deuce Coupe", "Double Surrey" and "Slingshot" (see them below). The Double Surrey I saw yesterday comes complete with a tasseled canopy, two steering wheels, and a car-like shift-lever that operates the brakes.
It should make for an even more interesting mix of traffic not just in Waterfront Park, but all around the area. Can you imagine six tourists piled into a double-surrey trying to pedal around downtown!? Not sure if there will be strict limits about where these wheeled-vehicle will be allowed to operate (how about one of these coming across the Hawthorne Bridge?), but I can foresee some interesting traffic encounters.
Here's a look at the types of vehicles to be offered: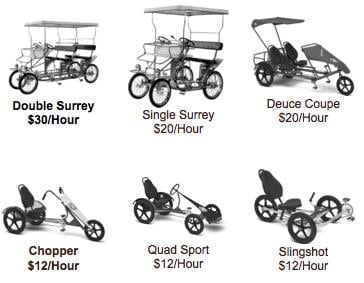 (Image: KerrBikes.org)
— Learn more at KerrBikes.org
Jonathan Maus is BikePortland's editor, publisher and founder. Contact him at @jonathan_maus on Twitter, via email at maus.jonathan@gmail.com, or phone/text at 503-706-8804. Also, if you read and appreciate this site, Jonathan hopes you'll become a supporter.