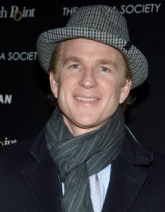 Actor Matthew Modine will narrate
Veer, a documentary about bike
culture in Portland.
(Photo © Dimitrios Kambouris/
WireImage.com
)
The creators of Veer, a feature-length documentary film that chronicles the people and culture behind bikes in Portland, announced today that they've picked Golden Globe-nominated actor Matthew Modine to be the film's narrator.
Modine is known for his role in Stanley Kubrick's Full Metal Jacket (1987) and more recently as a recurring guest star on the Showtime TV series Weeds.
Modine is also no stranger to bicycling. He made headlines back in September when 14,000 people showed up for the launch of his Bicycle For a Day campaign in New York City.
Veer's first screening is set for November 21st at the Hollywood Theater in Northeast Portland. The film was produced by Greg Fredette (Director) and Jason Turner (Director of Photography) and is a sponsored project of Film Action Oregon.
I shared my impressions of Veer back in September and you can watch the film's trailer (and read some community feedback) here.