Posted by Jonathan Maus (Publisher/Editor) on September 10th, 2008 at 3:55 pm
"Loss of the Colwood open space could also result in a permanent gap in the 40-Mile Loop Bike and Pedestrian Trail."
— Tony Fuentes, NE Portland resident and member of the Keep Colwood Green! Coalition
Citizen activists and a host of environmental organizations and neighborhood associations are hoping to save 138 acres of open space that straddles the Columbia Slough in Northeast Portland.
If successful, they'll save not only a potential new regional park, but they'll keep the door open for a future connection of Portland's venerable 40-Mile Loop — a trail that was originally conceived over 100 years ago.
The Colwood Open Space (currently home to a golf course just north of Columbia Blvd and West of 82nd Ave.) is being threatened by a rezoning plan that would transform 116 of those acres into industrial space.
Instead of becoming another industrial park, the Keep Colwood Green! Coalition wants to buy the land and turn it into Colwood Regional Park.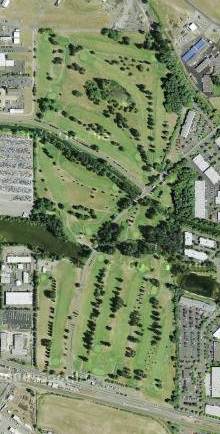 Colwood Golf Course today.
See what it will look
like after the rezone
here
.
According to neighborhood activist (and former contributor to BikePortland.org) Tony Fuentes, the area surrounding Colwood is "extremely park deficient". He cites a citywide "neighborhood access rate" of 40 people per park acre in Portland — while in the Cully neighborhood, that access rate is 2,780 people per park acre.
Fuentes is leading the charge to create a Colwood Regional Park which he says would, "dramatically enhance the livability of Portland and the region."
To buy it, the Colwood coalition would go after funds in Metro's Natural Areas Bond Measure, system development charges (fees assessed to new development to mitigate increases in corresponding infrastructure improvements) and other sources.
The Keep Colwood Green! coalition has already won one major battle — the Bureau of Development Services hearings officer denied the rezoning request back in May citing that the open space is a, "practically irreplaceable asset".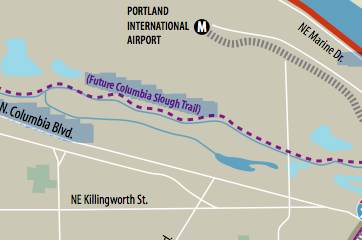 Detail from 40-Mile Loop Trail map showing how future
trail is planned through Colwood Open Space.
That decision by BDS will now be sent to City Council for review and a final recommendation on September 17th (next Wednesday). Before Council makes a decision, they've scheduled a public hearing that will begin at 6:00pm.
The owners of Colwood Golf Course have hired a consultant to help them push this rezone through.
The Keep Colwood Green! Coaltion is urging Portlanders to submit written testimony and/or show up to City Council and make their voices heard.

City Council Hearing on Colwood Golf Course Rezone
City Council Chambers (1221 SW Fourth Ave.)
6:00pm; September 17, 2008
Read more on this story on the Portland Mercury Blog, in the Portland Sentinel and in the Portland Tribune.
Also visit SaveOurOpenSpace.com for more on the Keep Colwood Green! effort.
Jonathan Maus is BikePortland's editor, publisher and founder. Contact him at @jonathan_maus on Twitter, via email at maus.jonathan@gmail.com, or phone/text at 503-706-8804. Also, if you read and appreciate this site, Jonathan hopes you'll become a supporter.