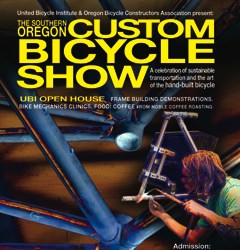 A custom bike show in Southern Oregon will feature builders from Oregon, Washington and California, including the debut of two new builders from Portland.
The first-ever Southern Oregon Custom Bicycle Show is a joint effort between the Ashland-based United Bicycle Institute (UBI) and the Oregon Bicycle Constructors Association (OBCA, a non-profit builders group based in Portland).
Among the list of 13 builders slated to attend are two Portland builders who are just beginning to make their work known.
Mark Simmons of Belladonna Cycles has been building since 2006 but has kept a pretty low profile. This will be his first big show.
I spotted this bike by
Mitch Pryor at a recent event.
(Photo © J. Maus)
Mitch Pryor has just launched his company, MAP Bicycles. Mitch learned the craft of framebuilding from Doug Fattic and also worked with local builder Joseph Ahearne before branching out on his own.
Other Portland builders joining Mark and Mitch at the show will be Tony Pereira (Pereira Cycles), Andy Newlands (Terra Nova/Strawberry Cycles), Aaron Hayes (Courage Bicycle Mfg. Co.), Sean Chaney (Vertigo Cycles), and Jordan Hufnagel (Hufnagel Cycles).
Along with ogling the beautiful work of the builders, the event will include, displays from local advocacy groups and an open house for UBI with frame building demonstrations, bike repair clinics, and a raffle for a custom bike that will be built at the show.
Southern Oregon Custom Bicycle Show
Saturday, September 13; 9am to 4pm
United Bicycle Institute (401 Williamson Way, Ashland, Oregon)
Free Admission
For more information and a complete list of exhibitors, visit the event website.