Posted by Jonathan Maus (Publisher/Editor) on February 9th, 2008 at 2:56 pm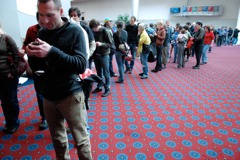 Bummer.
The crowds here at the Oregon Convention Center have been thick all morning. So thick in fact that City of Portland Fire Marshall Michelle Coefield just told me that they can't let anyone else in until people begin to leave.
Just after 1:30 or so today Coefield said she was worried that the size of the crowd was getting out of hand. "When we can't get through the aisles," she said, "we are forced to close the doors."
Fire Marshall Coefield estimated that the capacity of the venue was just over 3000 people and that the crowd at around 2:30 was "well over" that figure.
Earlier today, Convention Center staff was threatening to start cutting locks of the hundreds of bikes locked to railings at the building's entrance. The made announcements over the PA system and posted warning signs that said, "Bikes attached to trees or handrails will be towed" were posted on the main entry doors (see photo below).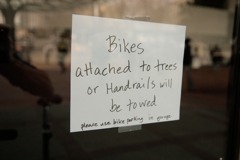 According to several witnesses, the Convention Center security personnel weren't just threatening. "They actually did cut some locks," said a reader named Jeff. He added,
"This happened after one announcement that could barely be heard over the masses inside…As I stepped outside to check on my bike, a security dude walked over to a bike attached to a handrail and removed the lock with giant bolt cutters. It couldn't have been more than 5 or 10 minutes after the first (and at that point, only) announcement requesting people to move their bikes."
After closing the doors to all visitors for about a half-hour, they are now allowing people to trickle in as folks leave. Meanwhile, the line is growing and would-be visitors look miffed.
"I just think they didn't know how popular it would be," said Coefield.