In Portland, Valentines Day should be called Velotines Day.
Sure, we love our bikes year-round, but this time of year an extra-special feeling permeates the bikeways.
Here are a few events to make your Velotines Day memorable.
St. Velotines Mocktails on the Bridge
Date: Thursday – February, 14 2008
Time: 4:30 PM to 6:00 PM
Location: East end of the Hawthorne
Attire: Something Pink…
[See photos and read about last year's event.]
Valetine Bike-o-Grams
Delivered by bike, these love notes benefit Siren Nation, a local non-profit that puts on an annual festival celebrating women in the arts, music, film, and activist communities.
For $5, you can order a Valentine (which consists of an old-skool card + a vegan chocolate bar) which will be delivered to your sweetie (or sweetie-to-be) by bike.
You can order them online via PayPal at SirenNation.org or visit local stores (list on their website) until February 8 (delivery will happen between 2/9 and 2/14).
Valentango Midnight Ride
And now, for something completely different. How about a ride that begins at midnight, takes a romantic and scenic cruise along the waterfront and ends up at a ballroom for some tango! Yes, it's the Valentango Midnight Ride, brought to you by Portland's growing number of bike loving tango dancers.
And check out the event poster. Classy…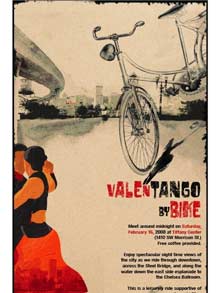 Any other romantic, two-wheeled tips? Feel free to share…
UPDATE: But wait…. there's more bike love…

Valentine's Day Formal hosted by the Bike Farm