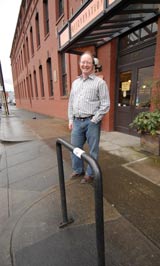 Rejuvenation retail store Manager
Greg Kamerer at their southeast
Portland location.
(Photo: Jonathan Maus)
Rejuvenation, the Portland-based retailer of vintage lighting and housewares, has launched an ambitious program to encourage more employees to get to work by bike.
The company — which has been in business since 1977 and employs 200 people between its manufacturing facility, retail store, and catalog sales operation — has partnered with The Bike Gallery to give a bike and commuting gear package away to one lucky employee each month.
Rejuvenation President Alysa Rose says the program is part of a larger effort by the company to reduce their carbon footprint. "We've made a corporate commitment to reduce our carbon footprint by 5% a year and we realize employee transportation is a big part of that," Rose said during a phone conversation yesterday.
Rose also said a major challenge to getting more of their employees to ride is financial,
"We have a very diverse workforce and many of our employees, especially at our manufacturing facility [in northwest Portland] simply cannot afford a new bike. It's one thing for me, and other senior managers to stand up and say, 'I'm going to get a bike and ride to work,' but for others, the financial issue is a major hurdle."
Rose hopes the new program will help some employees get over that financial "hump" that prevents them from riding to work.
In addition to a new bike, the monthly raffle winner will receive a full accessory package including lights, fenders, and a helmet. In exchange for the prizes, the employee must commit to bike commuting at least one day a week. If the winner already has a bike, they'll get a similar prize, but only if they commit to increasing their weekly bike commute trips.
Rejuvenation already has a company-wide alternative transportation benefit. According to Rose, they give up to $30 a month to any employee who walks, bikes, or takes transit to work.
If you have questions or feedback about this site or my work, feel free to contact me at @jonathan_maus on Twitter, via email at maus.jonathan@gmail.com, or phone/text at 503-706-8804. Also, if you read and appreciate this site, please become a supporter.