[Updated: 7:26pm]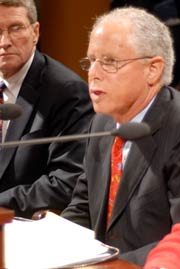 Romain strikes again.
(Photo © Jonathan Maus)
Earlier today Portland City Council passed Commissioners Adams' Safe, Sound and Green Streets funding plan.
The plan would be a huge boon to bicycling in Portland, with nearly $30 million (out of $400 million total) going toward bike safety improvements. But don't start the celebration yet…
The Willamette Week is reporting that, in a surprise move, Oregon Petroleum Association lobbyist Paul Romain will seek to gather signatures and refer the proposal to the ballot.
In the weeks leading up to the Council vote, seeking to thwart opposition and the threat of referring the proposal to the ballot, Adams struck what was thought to be a workable compromise with Romain. Adams staffers working on the proposal believed they had a firm agreement from Romain's group that in light of the compromises they would not attempt the referral effort.
Now, like a "punch in the gut" as one source just referred to it, Romain has switched course and has told the Willamette Week he will move forward with the referral effort.
Romain and his daughter Danelle Romain are partnering up with a coalition of opponents.
Here's more on that coaltion from a press release posted at OregonWatchdog.com:
"The coalition includes small convenience stores including the Korean American Grocery Retailer Association, the Taxpayer Association of Oregon, Oregonians for Prosperity, gas station owners, transportation critics Jim Karlock of Saveportland.org, Craig Flynn of ORTEM, among other groups and citizen activists…and also including aerial support from radio host Victoria Taft (featured on KPAM 860) and radio host Lars Larson (featured on KXL 750)."
Some familiar names in that list (wow, this is shaping up to be a battle royale).
Check out Nigel Jaquiss' coverage at the Willamette Week for more details and stay tuned for more on this story.
UPDATES:
More coverage of this story:
—Portland Mercury
—Portland Tribune