Posted by Jonathan Maus (Publisher/Editor) on December 11th, 2007 at 11:56 am
[Updated: 12/11, 11:01pm (see below)]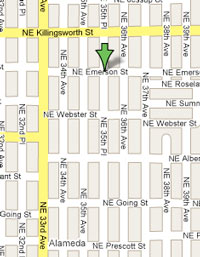 At 7:45 yesterday morning (12/10) a woman on a bicycle was thrown to the ground by a man in a car as she pedaled to work on NE Emerson Street and 35th Place (near New Seasons Market).
The man then stopped his car, robbed her, and threatened to kill her before speeding away.
The victim, 27 year-old Katie Hughes, told me she was riding north on 37th and turned left onto Emerson when she heard a car honk. "At first," she recalls, "I thought the car was just mad because I didn't signal." Here's how she describes what happened next:
"The car turned left and followed me as I rode in the parking lane of Emerson [it's a residential street with no bike lane]. Then I thought he just wanted park and figured, oh no, now I'm blocking him again. Then I went to the middle of the road to avoid a parked car and thought the driver would just pull in behind it and park…but then I heard the car behind me again.

Then, it happened really fast, he pulled up on my right side and reached out, grabbed me with his left hand, pulled me forward and threw me onto the ground. I landed on my face and got lots of cuts and bruises, it was a pretty intense situation. I was totally shaken up."
After throwing her to the ground, Katie says the man then parked his car, walked over to her and began helping her up.
"He was saying, 'you're OK, you're OK', as if he were trying to clear his conscience, so then I thought he just wanted to scare me but didn't mean to make me crash so bad."
Then things got weird. Katie says he "started fiddling" with her messenger bag [she thought he was just helping her adjust it so she could be on her way] and then he took the bag off her body. "He stole my bag and then said he'd kill me," she recalls.
Luckily, before he sped away and even though Katie was very confused by what happened, she kept her composure, called police immediately, and gave them the driver's license plate number (she also positively identified the assailant in a police photo lineup at the station).
"The police were really awesome…they validated me and were very kind."
Katie was surprised to hear that they think the same guy has done this at least twice before.
It's unclear so far whether or not this man specifically targets people on bicycles, or whether he is just an opportunistic, aggressive, car-driving purse-snatcher. Portland Police Bureau spokesperson Brian Schmautz says he can't release further information until authorized by detectives.
[The car is reported to be a small, early-mid '90s, silver-blue sedan. Perhaps a Toyota Tercel but that's not confirmed.]
---
UPDATE: The Oregonian reports that they have arrested the man who assaulted Katie Hughes. They say 25 year-old Rodney Arreguin was "booked into the Multnomah County Justice Center on five counts of Robbery 3, failing to register as a sex offender and parole violation." 