Posted by Jonathan Maus (Publisher/Editor) on August 28th, 2007 at 11:09 am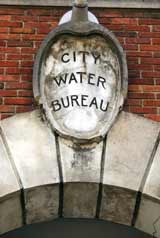 (Photos: Jonathan Maus)
Hoping to prevent a serious collision between their service trucks and bicyclists, the Portland Water Bureau is discussing ways to improve safety around their facility on N. Interstate Avenue.
Concerns about bike safety bubbled up seven months ago when a bicyclist riding south on N. Flint Ave. collided with a Water Bureau truck that was turning right from Broadway into N. Wheeler Ave. (see map below).
When a similar collision happened again on July 31st (luckily neither resulted in serious injuries), it raised a red flag at the Water Bureau and now they're hoping to come up with a safety fix for this problematic intersection.
As an interim measure, Water Bureau Director Maintenance and Construction Group Manager Kelly Mulholland issued an internal mandate on August 7th, prohibiting all Water Bureau vehicles from turning right on Wheeler from Broadway.
Yellow areas mark intersections where the Water Bureau is concerned about truck/bike conflicts.
Last week, the Water Bureau's Risk Specialist George Guard called in PDOT traffic engineer Peter Mason to discuss the problem with his Safety Committee. In that meeting, another problematic intersection came to light: N. Interstate at Tillamook.
Guard says his drivers are worried about colliding with bicyclists as the trucks turn right from Interstate onto Tillamook. This intersection will become even more problematic if/when truck traffic on Interstate goes up as a result of being diverted away from Wheeler (as the current mandate dictates).
A cyclist blows through the
stop sign at N. Flint onto Broadway.
The street in front of him is N. Wheeler.
(Photo: Jonathan Maus)
Yesterday, Emily Gardner of the BTA and I represented the bike community at a meeting with Guard, and other members of the Water Bureau's Safety Committee. Guard wanted to share ideas they've come up with and also hear what Emily and I had to say.
Here are some of the ideas the Water Bureau has come up with:
Maintain mandate that prohibits trucks from turning right from Broadway onto Wheeler (Guard reported some mild grumbling about this "inconvenience" from his drivers).
Add new signage at Flint/Broadway intersection.
Make Wheeler one-way out to Broadway.
PR campaign/Public Service Announcements (PSAs).
Pavement markings in Flint Ave. bike lane (a la "Hotel Zone" on SW Broadway).
Improve side-view mirrors on trucks.
Increase police enforcement of Flint Ave. stop sign (this intersection is already a priority for the Police Bureau).
Emily Gardner and I added these ideas:
A fisheye mirror at the apex of the Flint/Broadway/Wheeler intersection.
Solicit ideas and feedback on BikePortland.org.
Move the Broadway bike lane out into the lane at Flint (instead of at Interstate/Larrabee like it is now) to avoid the right-hook conflicts at Wheeler.
Have a Breakfast on the Bridges-style outreach event at Flint and Broadway to spread awareness of the problem.
Install a special "Watch for bikes" sticker on side-view truck mirrors.
Guard plans to take all these ideas — and any that you come up with in the comments — to his Safety Committee for final review on September 6th. From there, he will present the ideas to Water Bureau management for their review and implementation.
If you ride through this area (Flint is a major morning commute thoroughfare), please share your feedback, experiences, and ideas in the comments. Let's show the Water Bureau that by working cooperatively we can find a solution that works for everyone.
Jonathan Maus is BikePortland's editor, publisher and founder. Contact him at @jonathan_maus on Twitter, via email at maus.jonathan@gmail.com, or phone/text at 503-706-8804. Also, if you read and appreciate this site, please become a supporter.