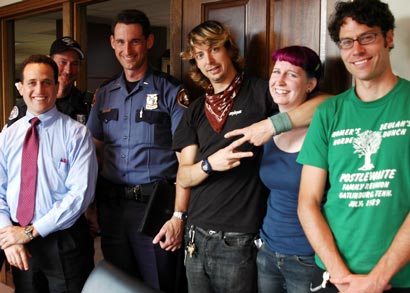 After the meeting. L to R: Lawyer Mark Ginsberg, Traffic Division Sgt. Mike Fort, Commander Mark Kruger, and Zoobombers Dave Terry, Leah Bendlin, and Corey Sevigny.
(File photo)

I'm in a meeting downtown right now where a positive discussion is taking place between three Zoobombers and two members of the Portland Police Bureau.
Bike lawyer Mark Ginsberg is hosting and moderating the meeting. In addition to Ginsberg, in attendance from Zoobomb are Dave Terry, Corey Sevigny, and Leah Bendlin. From the PPB's Traffic Division are Commander Mark Kruger and Sergeant Mike Fort. Matt Davis from the Portland Mercury is also here.
More to come later…
Here are the rest of the photos.
UPDATE: Matt Davis at the Mercury has posted a detailed report from the meeting (next time I'll bring my laptop too instead of just my PDA!).

UPDATE: I've posted my full recap of the meeting.