Posted by Jonathan Maus (Publisher/Editor) on August 6th, 2007 at 1:46 pm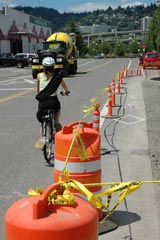 On SE Caruthers.
(File photo)
An article in the Daily Journal of Commerce (DJC) today reports that the Portland Police Bureau (PPB) will seek $300,000 in grant funds to continue their enhanced enforcement activities at the MLK Viaduct construction site.
The work zone (near OMSI, east of the Esplanade) has been the source of headaches for many cyclists (and legal trouble for some) since early this Spring.
The article says that according to a Police Bureau report:
"In the first four months of construction at the site, city police towed 29 vehicles; arrested three drivers under suspicion of driving while intoxicated; and recorded 2,545 speed violations, 176 bicycle violations and 503 other violations."
The ODOT-managed project, which will realign and replace the MLK, Jr. Boulevard and Grand Avenue viaducts, is scheduled for completion in 2010.